Jerome and Émilie's chic Central Park elopement had a fun surprise element…a "microwedding" before anyone was using that word. 
New York City is an incredibly popular wedding destination. But, to be honest, New York weddings are expensive and it's hard to know where to begin when you're working with a budget that's not unlimited. So, when you add in the cost of catering, table settings for 200 guests at your favorite venue plus flowers and cake from your favorite bakeries plus rental space fees plus photography costs plus spending money for out-of-towners and more, it's easy to see why planning a wedding in New York City is daunting.
Recently though there have been a growing number of micro weddings and when we saw this one come in that had a huge surprise element we were extremely excited to share it with y'all.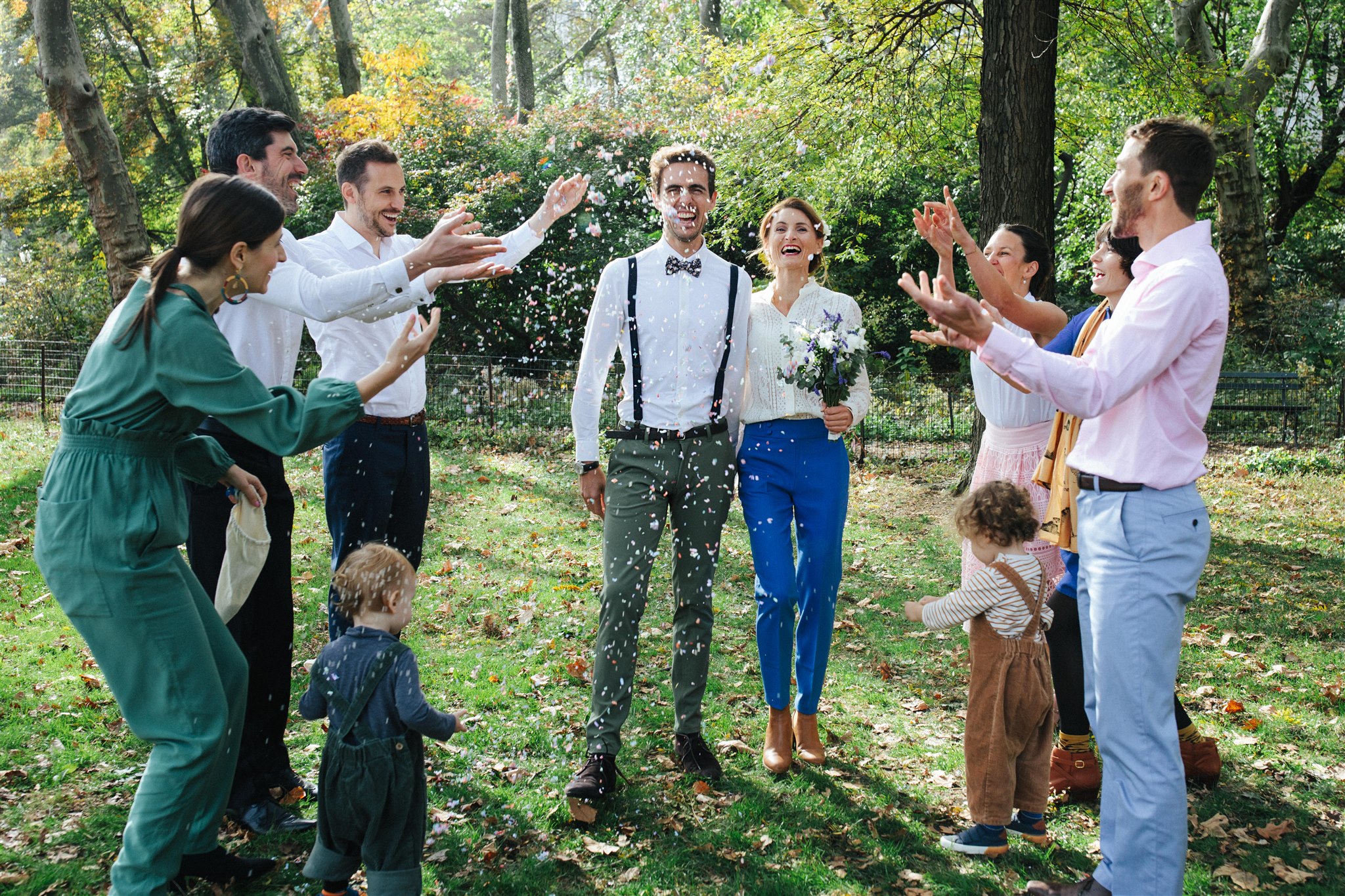 From the Photographer: Jerome and Émilie are French (they live in Toulon, on the French Riviera) and had been together for 17 years already, with 3 children, when Jerome emailed me with his plan to surprise Émilie with a proposal and wedding during an upcoming whirlwind trip to New York! I admit this was the first time I'd planned to photograph a wedding that would be a surprise for the bride, but I was so charmed by their love story! Needless to say, everything went perfectly once they arrived; Jerome proposed on the Brooklyn Bridge and told Émilie his plan for them to get married in Central Park just a few days later–she was shocked and thrilled. 
They went shopping for Emilie's wedding look–she found a white blouse and blue pants (I love that that was her "something blue"!) from Sézane– and Jerome wore separates from a local designer, Seagale, whom the couple know back in France. We gathered with 6 of their closest friends, 2 toddlers, and an officiant who specializes in Central Park elopements, and the ceremony was just perfect. Afterwards, we wandered through the park taking a few more photos at iconic spots, and I couldn't stop marveling at just how happy and at ease they seemed. It was a perfect fall day and we were surrounded by tourists but they really felt like the only ones there.
Credits
Event made possible by these fab wedding vendors: