If you're looking for a unique wedding venue with an urban bohemian vibe, look no further than the rooftops of Manhattan! There are endless possibilities when it comes to rooftop weddings in New York City. You can choose a trendy spot with incredible views of the skyline, or go for something more intimate and tucked away. No matter what your style is, today's wedding will sure make you fall in love with a rooftop experience and of course add in the amazing Manhattan skyline and yep you will be sold like we were!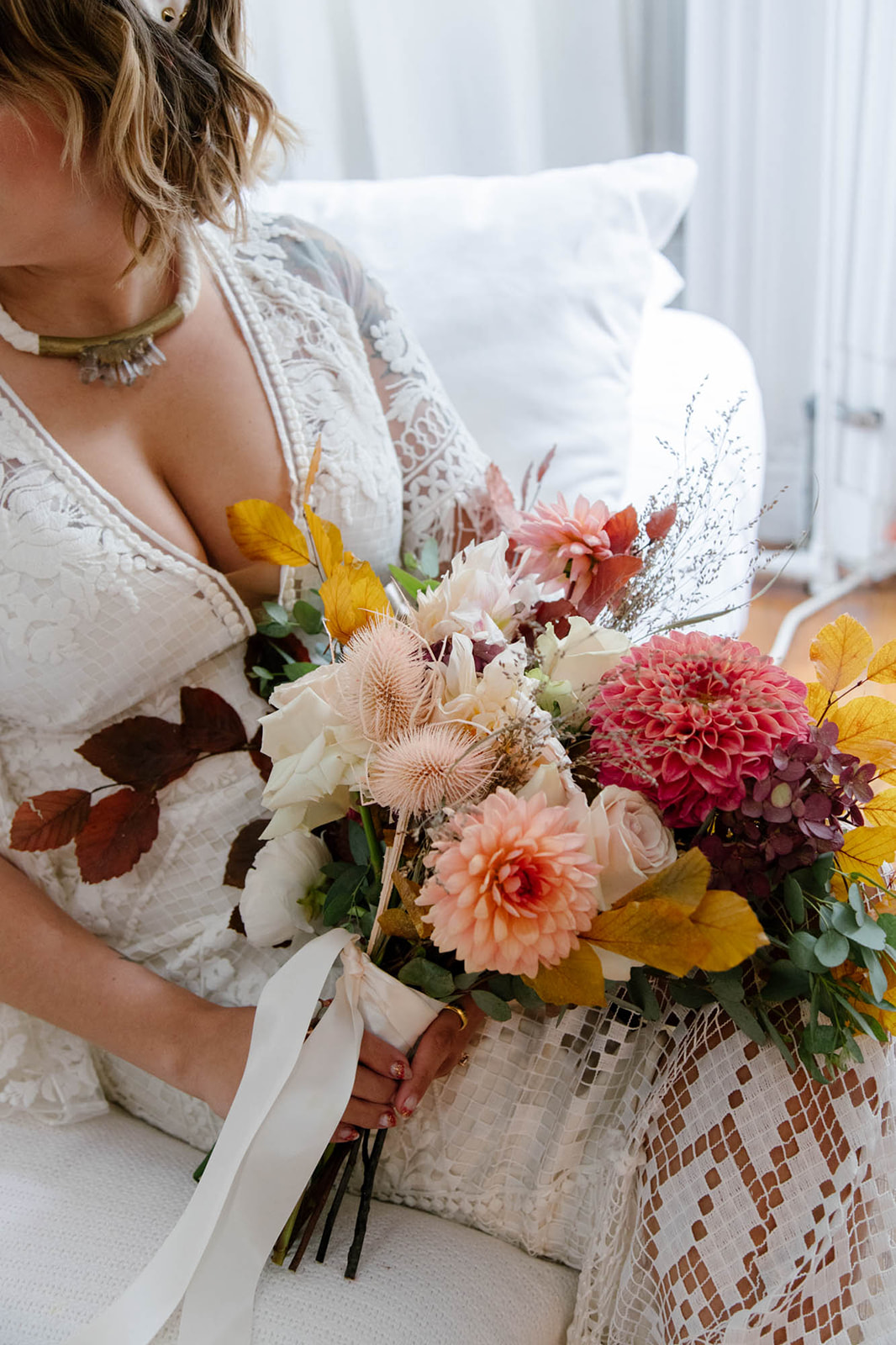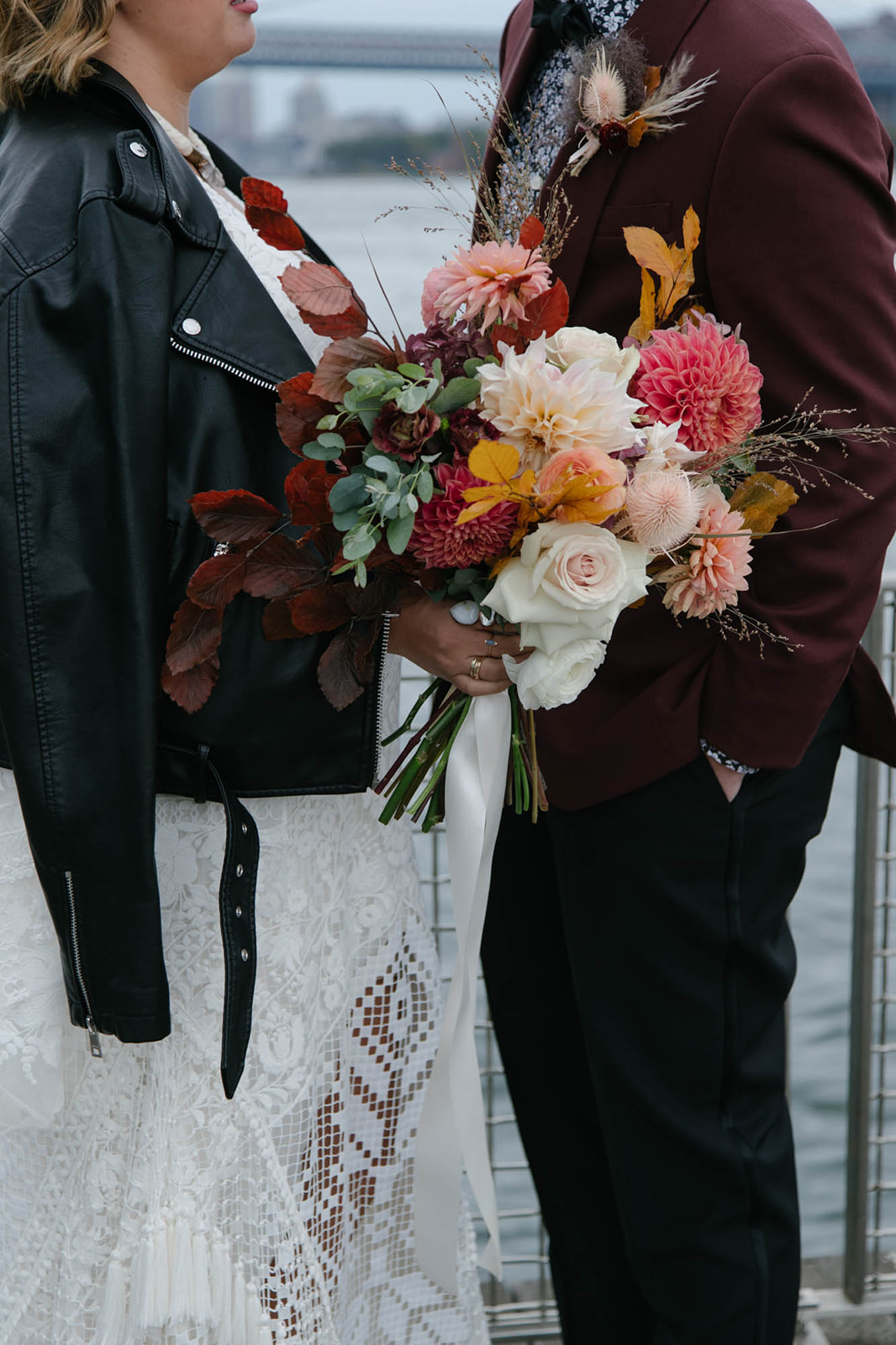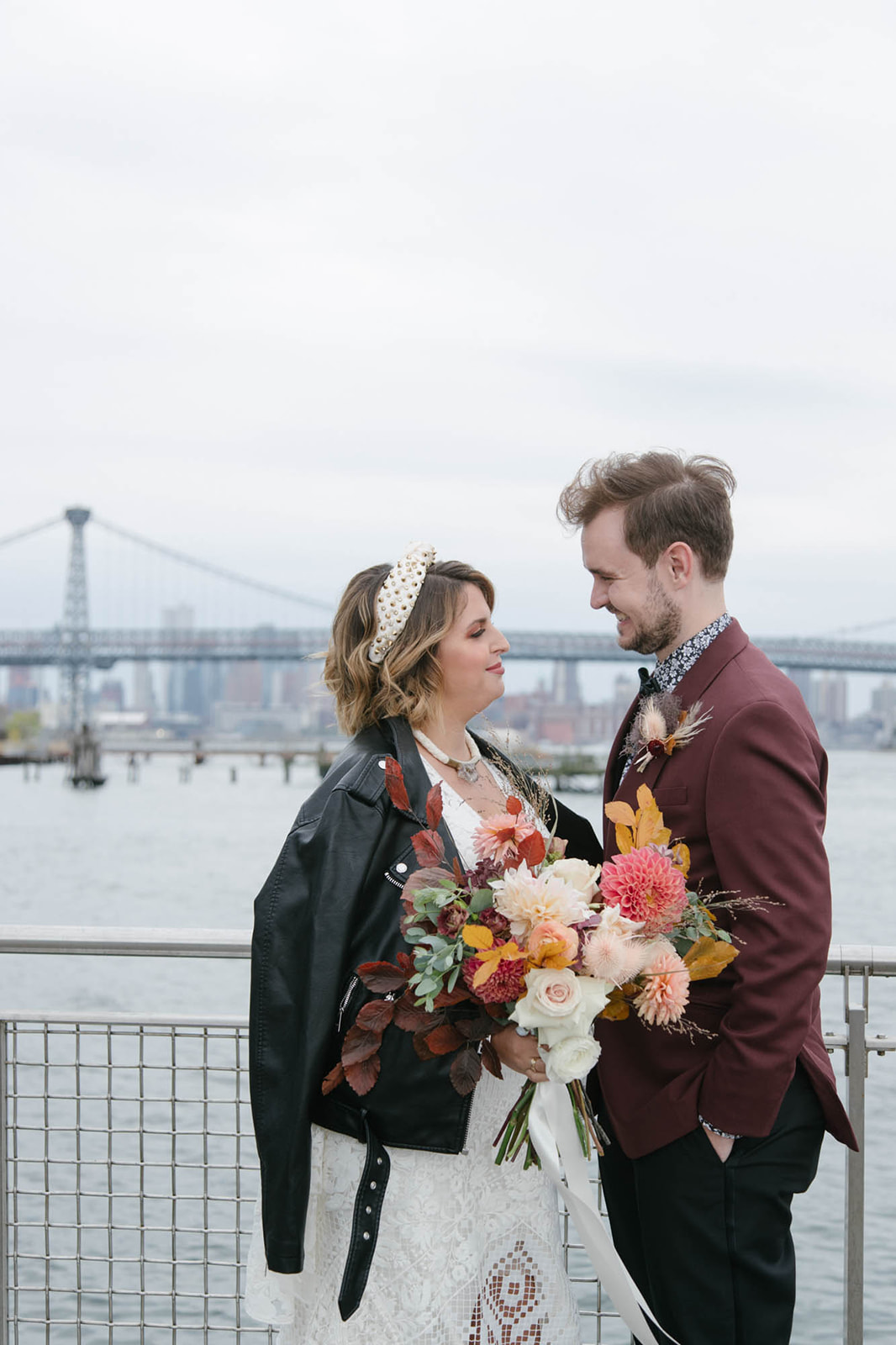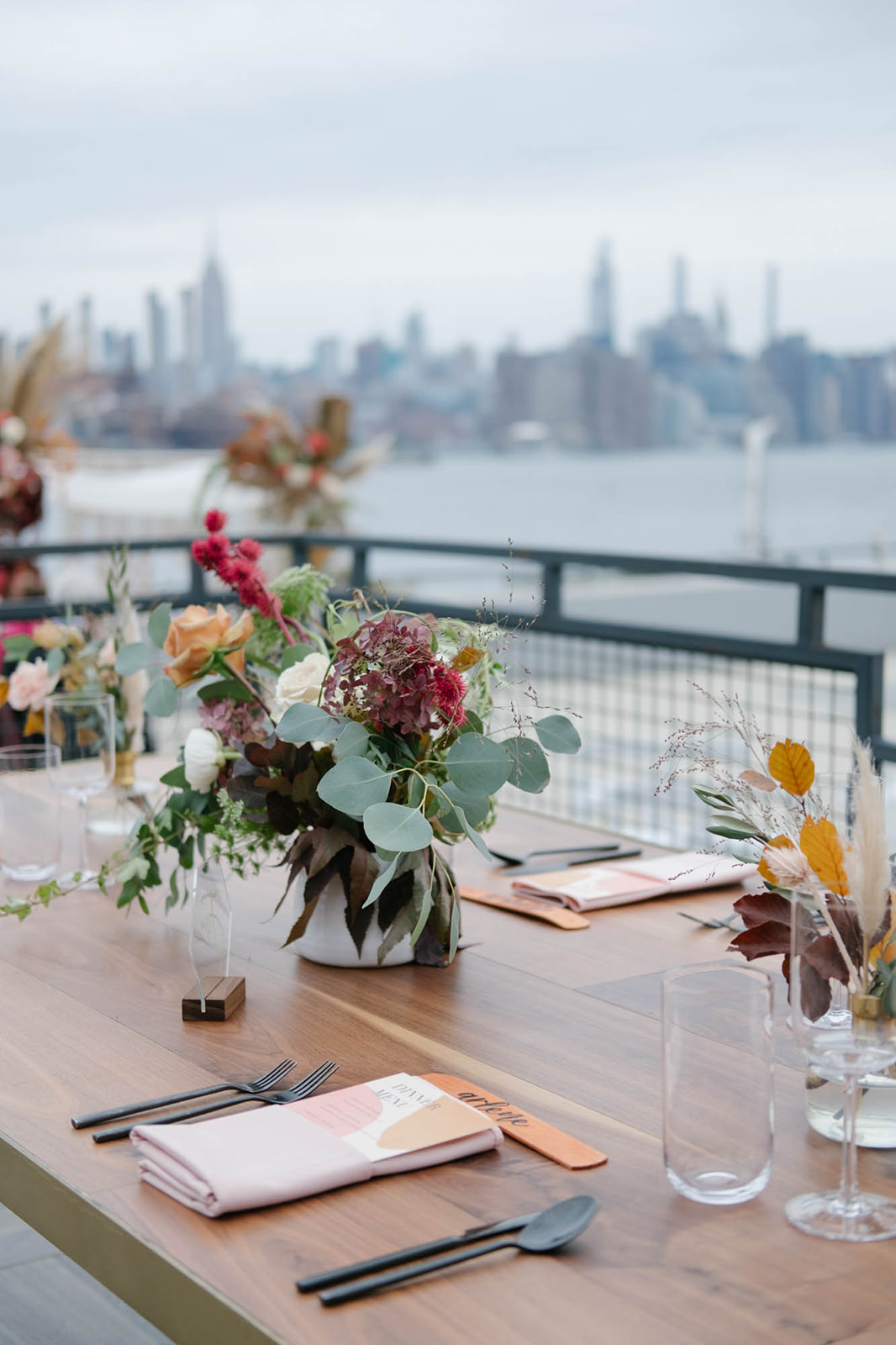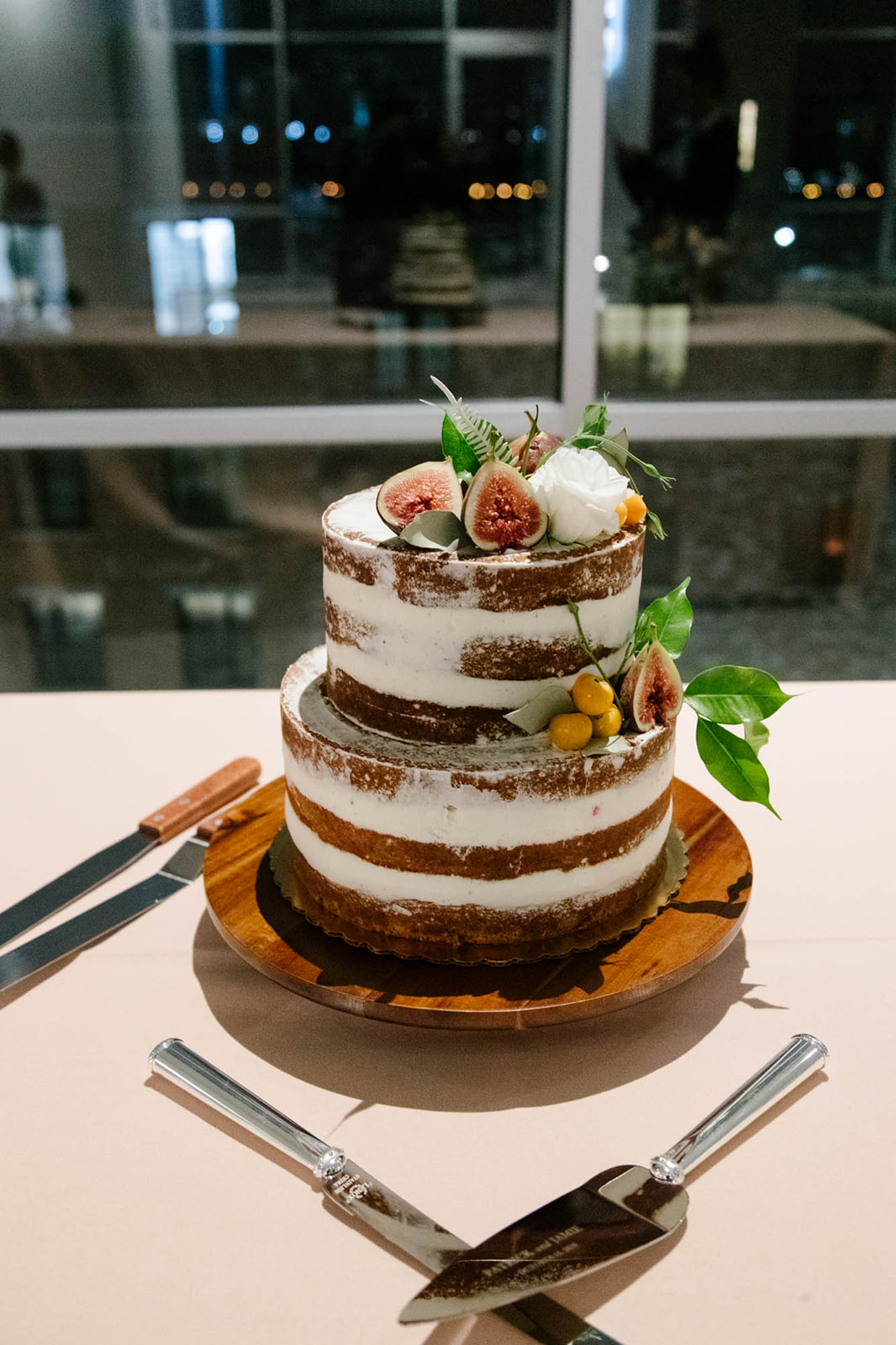 How did you meet?
It all started with "Happy Wednesday". Those two words were enough to charm Jamie into driving from East Meadow to BedStuy– because of course Patrick picked a beer hall in Brooklyn for a first date. Drinks at Berg'n led to an afternoon at the Met, a walk on the High Line, skipping work so that we could keep walking the High Line, and before we knew it, Patrick was flying back to Arizona for Christmas. Two weeks felt like an eternity, but we realized then that we had something special. 
What is your proposal story?
The next few years saw a lot of changes come our way. We moved in together, we adopted our first dog Sally Bowls, Jamie went to grad school to become a teacher, Patrick attended AppAcademy to study web development, we bought our first apartment in Williamsburg, adopted our second dog Seymour Mushnik, and started new jobs in the education and technology fields. 
All of which led us to Cabo San Lucas. After a Tuesday full of eating, drinking, and snorkeling the two of us were sitting on the balcony overlooking the ocean. As Tuesday turned to Wednesday, Patrick turned and said "Happy Wednesday. Will you marry me?"
Tell us a little a bit about your wedding.
While Jamie is from New York, Patrick moved here almost ten years ago from Arizona. When we got engaged it was clear to us that getting married in Brooklyn–where we met, moved in together, and bought our first home– was incredibly important. We never wanted a large wedding, so after a weekend or two of venue speed-dating, we chose the W Loft in Brooklyn for it's to die for views of the Manhattan Skyline and expansive rooftop space. Little did we know, with COVID hitting the NYC area hard, the rooftop would become vital to our wedding plans.
The vision for our wedding was an urban bohemian getaway. We wanted our family from across the country to see what we love about living here all while creating a little oasis on the Williamsburg waterfront. Shades of dusty rose, rust, marigold, and deep reds were sprinkled throughout the venue from Jamie's bouquet to the chuppah and the rugs that accented the ceremony and reception spaces. We love to play around with decor in our home and have a pretty relaxed vibe. It was important to us that this came through on our wedding day. Having a space to relax and have fun with our closest friends and family in a location we love was our main goal. 
Tell us about your attire choices.
Jamie has never been the traditional bride. Growing up she didn't dream of a big, fairytale wedding and for a long time, the idea of getting an actual wedding dress wasn't even part of the plan. In reality, the idea of finding a dress was absolutely the most stressful part of the process for Jamie and she delayed her search for some time. Once she came upon Lovely Bride– a gorgeous salon with a small boutique feel– she felt way more at ease. One of the main reasons Jamie ended up at Lovely was to look at their large Rue de Seine collection. Rue de Seine has just the coolest bohemian feel with the most amazing, intricate details. Feeling comfortable and confident was very important to Jamie, as was feeling like her wedding dress really exuded her personal style. She wound up buying the Tulsa Rose dress which features handmade lace, long open sleeves, and loads of tassels. Jamie finished her look with a handmade fabric and stone necklace from Opalmilk, white boots, and a spiky gold headband.
Patrick has a relaxed but classic style, so for his tuxedo he wanted something simple with some bold touches. The Black Tux has a wide array of classic silhouettes with some more modern, slim cut bottoms, so this seemed like the perfect place for Patrick and his groomsmen– spanning five states– to source their looks. Patrick was interested in a classic tux for the groomsmen and our fathers, but wanted to add some color and pattern to his look. He found the perfect burgundy jacket and opted for a slim pant and low-cut vest for a more streamlined look. For a unique touch he found a black and white floral Eton Shirts button down. As a whole, we both tried to find accessories and special touches that were perfect for our wedding, but would also transition into our everyday wardrobes.
What was the most important to the two of you while planning? Was there anything that you chose to splurge on or skip?
It was pretty early into our time together that we realized our relationship had the secret sauce. By that, we mean food compatibility. We are both adventurous eaters who love to try new things. That excitement toward the culinary world became a solid foundation to our relationship. Our anniversaries were always spent at Michelin star restaurants like Delaware and Hudson or Le Bernardin. So when it came to the wedding, the food was definitely something we chose to splurge on. With the help of Holly at Fig and Pig, we were able to curate a multicourse tasting menu that accommodated meat eaters, vegans, gluten free and the like from cocktail hour through dessert. And it was more than worth it.
What were your favorite parts of the day?
Honestly, the fact that we could have just about everyone from our close-knit bridal party getting ready together at the same place the day of the wedding was a miracle. We had some members of the bridal party that couldn't make it to New York, we had local and state governments pondering lockdowns by zip code, we even had the AirBNB that was booked months in advance tell us they could no longer hold our reservation as we were on our way to pick up the keys (yeah, that happened). So waking up the morning of our wedding — in a completely different Airbnb than we had planned — and seeing even a small handful of family and friends arrive one after the next provided a sense that we'd cleared the last hurdle, and the wedding was actually going to happen.
As proud puppy parents, we knew that we could not be married without our fur babies by our side. We bought Sally Bowls a little white dress with flowers on it, and Seymour Mushnik a suit with a maroon bow tie (to match Patrick's tux). Just before we were pronounced married, our officiant invited our pups to come up and join the ceremony. Our neighbor, who was holding onto them, released their leashes and the two of them weaved down the aisle and through our guests all the way up us. They knocked over a champagne glass or two, but having the two of them run up to help us get married was easily one of the best moments of the day.
Tell us about your wedding flowers.
Designing our florals was one of the most exciting parts of wedding planning. Jamie had so many ideas and a pinterest board of floral moments she wanted to combine into an explosion of bohemian goodness. It was important to us to stay within a reasonable budget while still making our design dreams a reality. The only reason this was possible was because of our incredible florist, Julia, from Fern Botanica. She made the planning process so simple and immediately understood our vision. When planning our florals, the actual flowers weren't precious to us. We weren't tied to any specific variety, we wanted a rich mix of colors and textures, dried and fresh flowers, and impactful bursts of florals and greenery throughout the venue. The flowers adorning the chuppah were unbelievable. The mix of dried palm fronds, bright flowers, and sprays of leaves were so beautiful. Julia even managed to find large, pink eryngos to accent the chuppah and bouquet that we still have dried in our apartment! Another special moment we loved were our hanging pampas "bursts". These were two gorgeous explosions of pampas grass hanging above the center of the reception space. They really gave the tent an out of this world look.
Tell us about your wedding cake.
It. Was. Perfection.

We had stumbled upon Lucky Bird through their gorgeous cakes on Instagram. Their use of seasonal fruits and flowers for cake decoration are absolutely stunning. You know how they say you eat with your eyes first? Yum!

Throughout the chaos of 2020, Lucky Bird worked with us to make sure we had exactly what we needed for our wedding. Our guests raved about the Meyer lemon, raspberry, and pistachio cake, and that was only the bottom tier. We took home a mouth-watering spiced poached pear cake topper that the two of us devoured the week following our wedding. There was no talk of freezing it for our one-year anniversary because it was too good not to eat now.

We ordered another Lucky Bird cake for Christmas (because why not?). And after writing this… we're considering calling and ordering another one.
What did you do for favors?
We wanted to give our guests favors that were usable and brought the wedding vibe home with them, so we opted for an incense bar. Jamie hand painted wood incense holders as place cards so everyone had a burner and an array of incense to take home to keep the chill going! Being that this is the time of COVID, our bonus favor was a personalized hand sanitizer for each of our guests.
Please describe any DIY, handmade, or personal details.
As an artist, it was important to Jamie to include handmade touches to our wedding. Besides making incense holder place cards, Jamie hand painted and embroidered a leather jacket for herself and painted denim jackets for each member of her bridal party. Jamie designed the labels for our incense table, sanitizer and mask station, and sign in area. Another fun DIY project that we were able to complete together was designing and painting a custom cornhole set to have out on the rooftop for our guests to play throughout the night!
The biggest personal touch we added was a massive macrame piece that hung from the back of our chuppah. Jamie based her design on the amazing templates in Statement Macrame by Natalie Ranae. She took her design and beefed it up so it would fill the entire 8' x 8' frame of the chuppah. It made for a dramatic moment, gorgeous photos, and is a staple of our dining room today!
Did you include any family heirlooms or special traditions?
One of the most sentimental heirlooms that played a significant part in our wedding was a necklace that Jamie's grandmother left for her before she passed. The necklace contained a diamond that we were able to custom build into Jamie's engagement ring. The center stone from Grandma Fran was then surrounded by two opals (since October was the month we met and the month we were married), a sapphire, and a ruby spinel to represent the two of us and our journey as a couple.
It was important to us to not only include family traditions, but to incorporate a few of our own as well. Jamie included her own special touches on our chuppah, and we did the traditional stomping of the glass, but we also played a round of rock-paper-scissors to see who would deliver our vows first (Jamie won). Since many of our loved ones couldn't attend the ceremony, we collected letters and placed them in a time capsule for us to open on our five year anniversary. We also wrote letters to each other, and included our handwritten vows, and a bottle of Open Work Merlot from Grimm (a 100% spontaneously fermented ale aged in oak barrels with merlot grapes).
One last touch — rather than having our guests sign a guest book, we had them write their messages on a selection of vinyl records from our favorite band, The Wonder Years. Their two acoustic albums (Burst and Decay Volumes 1 & 2) were printed on beautiful white vinyl, which made them the perfect fit. We danced our first dance as husband and wife to a song from those albums, and have the signed records framed in our home.
Do you have any advice for couples planning their weddings now?
One of the biggest pieces of advice we can give is to develop strong relationships with your vendors. Pick people you could see yourself being friends with that have similar styles. The more you trust your vendors, the less stressed you will be throughout the planning process and the day of your wedding. Forming these relationships allowed us to have a smooth planning process, beautiful photos including our pups, and a personalized ceremony. Choosing the right vendors also gave us the chance to give back. Many of our vendors donated a portion of what we spent to an organization of our choice. Working with mostly female owned, socially conscious, and local vendors meant we could support our community while relishing in the joy of the occasion.
Another piece of advice we would give other couples is to take a moment to yourselves. Our coordinator made sure we did that– another piece of advice is to get a day-of or month-of coordinator. Having a few minutes alone in the bridal suite to catch our breath after the ceremony and munch on a plate of hors d'oeuvres and drink champagne (seriously–our vendors were the best) gave us the time we needed to be excited together before we had to make the rounds during cocktail hour and take more photos. It was a much needed respite and moment of calm that we didn't realize we would absolutely need. 
*Some links may be affiliate links
Credits
Event made possible by these fab wedding vendors: