A successful wedding relies on the careful coordination of its planning team, with every last detail accounted for when the big day rolls around. But not every vendor is a fit for every wedding — factors like aesthetic style, skill level, packaging, and pricing all come into play when choosing the professionals who will bring your wedding vision to life.
That's why couples must take care to vet their vendors before signing on any dotted lines. Doing so ensures a smooth and comfortable planning process, as well as a celebration that meets (or exceeds) expectations.
"Taking the time and doing the research to vet wedding professionals prior to reaching out will relieve so much stress and headaches," states Bri Marbais of The Bridal Finery. "It can be overwhelming for couples if they have to constantly meet with different vendors and be disappointed. Find the best of the best on the front side and only plan on meeting with them."
As you navigate the market and build your wedding day team, here are some tips from the pros to consider when making final decisions.
Consult with your booked team.
Most couples start the planning process by booking their venue and planner before sourcing the rest of their vendors. Look to them for advice when adding to the team!
"Start by asking your venue and other wedding pros you have already contracted if they have ever worked with the company before," suggests Shannon Tarrant of WeddingVenueMap.com. "The local wedding community is small, and you want to find someone who has had a positive experience with them before you invest the time in meeting with them."
Nora Sheils of Bridal Bliss and Rock Paper Coin recommends letting a planner do the heavy lifting: "If you are working with a wedding planner, part of their worth comes into play at the very beginning with their tried and true vendor list. He/She/They will be able to recommend vendors that fit your budget, your personality, your aesthetic, and so on. They have done all the vetting so you don't have to, and you can rest assured that your wedding pro team will be top-notch."
Do your due diligence.
Regardless of recommendations from your booked pros, you'll still want to do some light research to get a feel for a potential vendor. Reviewing their online presence can reveal a wealth of information about someone's personality, reputation, and quality of service.
"Looking at a vendor's total internet presence is a great way to get a sense of how their business is run and the services they will perform," says Meredith Ryncarz of Meredith Ryncarz Photography. "As you are looking at their online presence, ensure that you broaden your search to all social media and internet platforms they are part of (Instagram, Facebook, website, etc..) to ensure you see the most up-to-date information."
Jamie Chang of Mango Muse Events suggests looking at online reviews as well, adding: "Reviews are one of the best ways to check out a pro before meeting them because it gives you an idea of someone else's experience. It will show you what they are good at because the review will speak to that. But it will also show you what they may not be so good at by what is omitted. Depending on what you're looking for, this can help you figure out whether it's a good fit or not."
Look beyond services and skills.
While you certainly want a professional who is an expert in their field and offers top-notch services, remember that you'll also have to spend a significant amount of time with them! Personality is an essential piece of a successful working relationship, so get a feel for who they are — not just what they offer.
Nikki Golden of Nikki Golden Photography elaborates, encouraging couples to "find vendors who align with your values. For instance, if you really value your family and having candid moments with them is something of importance to you, it might be best to find a photographer who also believes in the value of family time because they will put an emphasis on that part of your wedding."
Consider a vendor's response time.
Once you take the plunge and inquire with a prospective wedding pro, assess their communication style carefully. Remember: This person is someone you'll need to rely on for months, so you want to ensure they are responsive and helpful.
"My word of advice is if it takes a vendor several days to get back to you, chances are this is what the entire planning process will look like throughout the year," asserts Sandy Brooks of Timeless Event Planning. "If you are a type-A bride, this vendor is most likely not the right fit. However, if you reach out on a Friday, know the vendor will most likely get back to you on their next business day (typically Monday). If you are reaching out during peak season, allow a little flexibility with scheduling a meeting."
Ask the right questions.
When it comes time to interview and compare vendors, don't hold back — ask all of the critical questions you need to make a wise booking decision.
"Finding the right wedding pro that matches your style, personality and budget is no easy task," affirms Jaclyn Watson of Jaclyn Watson Events. "The best ways to vet those potential pros are by asking key questions. Before they meet, couples should also ask for references and look at their portfolio of work."
As for questions to ask, Bellwether Events' Janice Carnevale shares a few to start: "Out of the box questions: What is the best thing you've seen at a wedding, or your best memory? What was the hardest thing you've had to do at a wedding? What is a mistake you see couples make over and over and how can it be avoided? What is on your wedding pro bucket list?"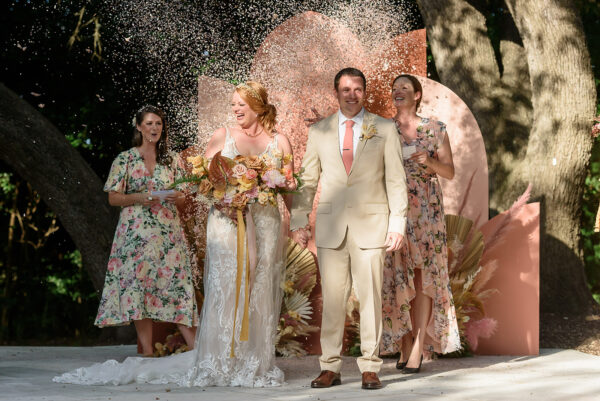 Inquire about contingency plans.
Of course, one of the most important questions to ask—especially amidst a global pandemic—is about backup plans. By now, every wedding pro should have a Plan B, C, and D. If they don't, it suggests they are not prepared to manage risk for your wedding.
"With the times we are in right now, I would ask about insurance and backup systems that are in place if they are unable to fulfill their job," says Jennifer Sulak of Weirdo Weddings. "The more specific you are, the more you will have documented to protect yourself and the wedding pros. Communication is a large portion of planning events and weddings, and all parties involved need that open door to speak about concerns, legalities, and emotional aspects."
The vetting process might feel like a lot of work, but it's the best way to fill your wedding team with individuals who will support you and your interests. And with help from your venue or planner and a list of great questions, you'll find that vetting can be an efficient and meaningful step on the journey to your happily ever after.
Meghan Ely is the owner of wedding PR and wedding marketing firm OFD Consulting. Ely is a sought-after speaker, adjunct professor in the field of public relations, and a self-professed royal wedding enthusiast. 
We've partnered with OFD Consulting to bring you this great advice from their collective of wedding professionals.