If you're in the midst of planning your wedding, there's one thing you know for sure: There is a lot to do. So when the tasks add up and your budget is stretched, you may be inclined to take some shortcuts to ease the burden.
These shortcuts are just fine in some cases, such as relying on a website for RSVPs or setting up a honeymoon fund instead of a gift registry. Yet, other shortcuts can ultimately create more difficulties along the way to your I-do's than necessary.
We spoke with industry experts about the shortcuts couples should avoid to preserve the integrity of their wedding day and ensure a smooth path to the aisle.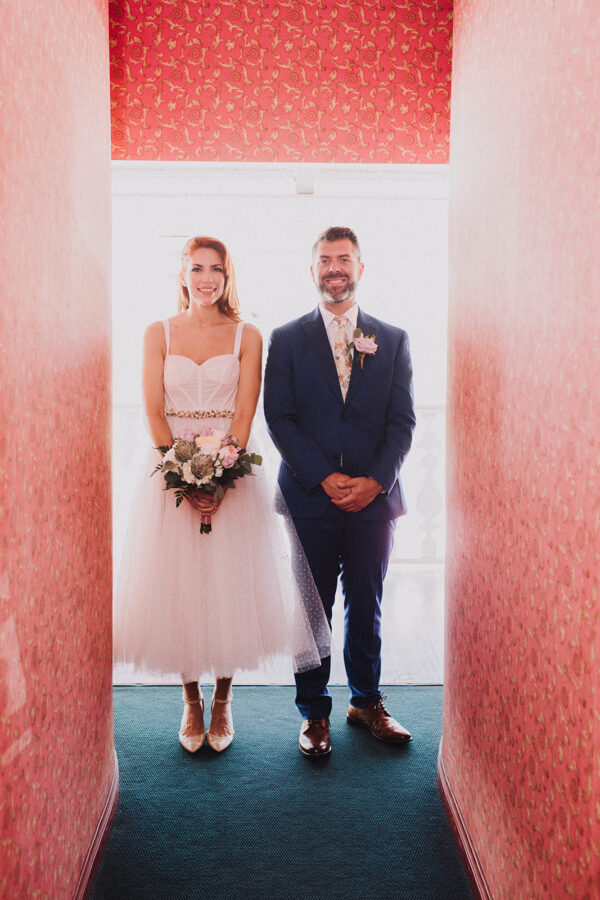 Hiring the cheapest vendors available
Most engaged couples try to adhere to a budget for their wedding, whether it's $30,000 or $300,000. But, regardless of what you're working with, "don't choose the cheapest wedding pro just because they fit the budget you set for that wedding pro," recommends Amber Anderson of Refine for Wedding Planners.
"In this industry, you get what you pay for, and unfortunately, some wedding pros that undercharge for their services can over promise and under deliver, and maybe even no-show your wedding," she notes. "If they charge less, ask why. Maybe they are newer to the industry, and that is a temporary price point, but make sure they haven't taken on more than they can handle."
Checking vendor reviews before booking
We rely on Amazon reviews to point us in the right direction for household items, books, electronics, and clothing. So why not apply the same logic to the professionals tasked with bringing your wedding day to life?
As Maureen Cotton of The Soulful Wedding encourages, "Be sure to read multiple reviews for all of your vendors. Their website might be beautiful, and the conversation might be fun, but most couples don't realize how much certain vendors impact the experience of their day. Read closely about how they handle everything from communication and partnering with other vendors, to troubleshooting on the day of and any follow-up after the wedding."
Interviewing vendors before booking
Reviews are only the first step in the process — you must also interview all of your vendors before signing a contract! "​​Don't skip the interview phone call or meeting before hiring a vendor, even in this crazy wedding boom," stresses Jamie Chang of Mango Muse Events. "Websites and emails are great, and you can get a lot of information, but you won't know what a vendor is like until you talk to them."
It might feel like an unnecessary step when the reviews check out, but "the interview is crucial to understanding who they are and their personality," Chang asserts. "You can waste money and time and create a lot of extra stress for yourself by hiring someone who just isn't right. And no one wants that!"
Skipping the engagement shoot
An engagement shoot might seem like another expense and addition to your to-do list, but it's essential to get to know your photographer before the big day. Plus, you'll have plenty of photos to use for your save-the-dates and wedding website!
"Building a vendor relationship is crucial in how your photographer will capture you and tell your love story on your wedding day, but they are also the one vendor that is by your side potentially more than your significant other," explains wedding photographer Jessica Feiden. "Wedding day portraits go so much smoother when you have already had the practice because your photographer already knows your favorite side and how the two of you interact."
Expecting a venue coordinator to plan your wedding
While many venues do offer day-of coordination support, don't get this confused with full-service planning. Venue coordinators can be extremely helpful, but they work for the venue — not you. On the other hand, wedding planners have your interests in mind and will ensure everything measures up to your expectations.
"These are two very different roles in the wedding world," confirms Kimberly Sisti of Sisti & Co. "Expecting your venue coordinator to be interchangeable with a planner will create a lot of confusion towards the end of the planning process. When in doubt, ask questions about what the venue coordinator will do for you. Keep in mind that if it sounds too good to be true, it might be."
Forgoing a photography wish list
No matter how much you trust your photographer, a wish list is essential for getting the must-have shots from your wedding day. Yes, they know the key moments to capture — but your list will help them prioritize what is most important, whether it's a cheeky detail at the welcome table or a special moment with grandma.
As Jennifer Sulak of Weirdo Weddings explains, "the best way to know your story is to have a detailed list of wants and needs in getting to know you as a couple. If you are not open & straightforward with your questionnaire (or image list), you can miss some moments that you thought were important but could be missed! This includes people, details, group image ideas, and family/friends that are VERY important to you."
Creating a backup plan for weather
Rain is the last thing you want to deal with on your wedding day — which is why it's one of the first things to consider! "Do not skip creating an inclement weather plan!" says Nora Sheils of Rock Paper Coin and Bridal Bliss. "There are so many elements to consider when planning an outdoor wedding."
"Consider the ground and the cover, and create plans A, B, and C to make sure you are set regardless of the weather," Sheils adds. "Plan for all the elements, cold, rain, wind, excessive heat, etc. Be prepared with a hand warmer station, blankets, heaters, and cover if it's chilly or ice-cold hand towels, extra water stations, and coverage if heat is potential."
Booking a travel specialist for a destination wedding
If you're jetting off to tie the knot, it's wise to get extra support for the travel portion of your celebration. Destination weddings tend to involve much more logistics than their hometown counterparts, so couples find it helpful to have someone who can check off the boxes to ensure their marriage is official and keep their guests comfortable.
"This is especially vital in today's climate, where the ongoing pandemic continues to impact travel plans," confirms Jen Avey of Destination Weddings Travel Group.
"A professional destination wedding specialist will not only help you sift through your location and venue options, secure a group room block, coordinate travel arrangements for you AND your guests, but they'll also keep everyone educated on the everchanging safety guidelines and entry requirements for your particular destination, and assist with any travel mishaps such as a flight schedule change, last-minute cancellation, etc.," Avey explains. 
There are plenty of ways to save time and trim down your expenses on your way to "I do," but be mindful to skip these shortcuts and avoid the headaches! The perfect wedding is one planned properly — and when it comes to the memories you'll make, it's worth doing it right.
Meghan Ely is the owner of wedding PR and wedding marketing firm OFD Consulting. Ely is a sought-after speaker, adjunct professor in the field of public relations, and a self-professed royal wedding enthusiast.
We've partnered with OFD Consulting to bring you this great advice from their collective of wedding professionals.