In the hustle and bustle of planning (and budgeting) a wedding, vendor meals often end up at the bottom of the to-do list. It's not that couples aren't considerate or appreciative of their team's hard work — instead, many simply get caught up in other details, like decór choices, guest lists, and timelines.
Yet, it's important to remember that your wedding pros are people who need to eat! After all, a well-fed vendor is better equipped to serve your guests with more energy and a positive attitude.
So if you don't want to deal with hangry vendors on your big day, here's everything you need to know about serving vendor meals that keep your team on top of their game.
Who should get a vendor meal?
The answer to this can vary, but a general rule of thumb is that "meals are usually offered to wedding professionals who are with you throughout the wedding day and reception," says Frank Guertler of Bunn DJ Company. "That includes photographers, videographers, DJs/musicians, wedding coordinators, and assistants."
While delivery people and other short-term vendors don't fall into this group, Shannon Tarrant of Wedding Venue Map tells couples to "think through any of those who will be there working 6 hours on-site and through meal time."
As for caterers, "caterers will feed their team themselves," says Janice Carnevale of Bellwether Events. "The logistics and cost of that are baked into your contract already."
When in doubt, your wedding planner can help you confirm who gets a vendor meal and relay the final count to your caterer.
Are vendor meals required?
Vendor meals are undoubtedly a kind gesture to show appreciation for those bringing your wedding to life. But are they required for everyone on your team?
Yes and no. It depends on your vendor and the terms of your agreement together. As wedding photographer Nikki Golden explains, "many vendors (especially those who are there all day, like photographers, videographers, and planners) will require a meal in their contracts. Some vendors will also offer the option of allowing them to leave the venue for a specific amount of time to get a meal if one is not served."
So as you book vendors for your big day, review contracts closely and note who stipulates a meal while onsite. (You can still extend the courtesy even if they don't!)
When and where do vendors eat?
You may be thinking: "If my vendors are working the whole time, when and where will they find space to eat amidst a busy schedule?"
In most cases, couples don't need to worry about the when and where. Wedding professionals are notably adaptable and it's not their first wedding, so there are typically procedures already in place.
But if you want to ensure everything runs smoothly, "ask your venue or caterer to feed your vendors at the same time you and your partner are eating," encourages wedding photographer Jenna Brisson. "This ensures that the vendor team is finished eating when you and your partner are finished eating, which means the DJ or band can start playing. And your photographer and/or videographer can get back to capturing you interacting with guests and dancing as soon as you're finished with dinner."
However, know that your caterer is ultimately the decision-maker when it comes to feeding your vendors. And according to Carnevale, "sometimes caterers refuse to feed wedding pros until all the guests are fed. In this case, you will have to plan a bit of a lull in post-dinner activities while your team eats. As an alternative to this, if planned carefully in advance, you could have dinner delivered to the team by an outside source so that they can eat while guests eat."
As for where they eat, "you can add them to a guest table and serve them like other guests," Golden says. Although, she notes that "this isn't an option most couples choose, and to be honest, it's not necessary, although it is very thoughtful."
A Fresh Event's Jen Ganson offers an alternative solution, suggesting that "if you'd prefer your vendors are not seated amongst your guests, it is very easy to find a spot at your venue that still allows your vendors to be nearby in the event they are needed quickly. We often set up a table in the cocktail area or use a spare room not too far from the dining room. This should be decided when you're firming up your floor plan."
Work with your venue, caterer, and planner to determine the best place to serve vendors dinner and how meals fit into the wedding day timeline.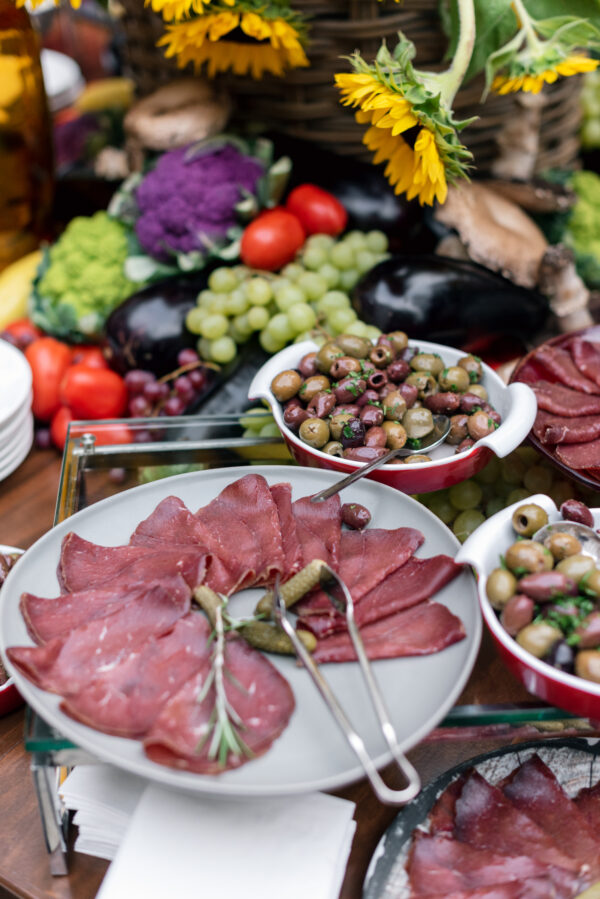 What should I serve for a vendor meal?
Beyond the logistics, you may be wondering what your vendors will eat on your wedding day. Will they get the same meals as your guests? Or is it a matter of boxed meals? Discuss options with your caterer and, if none are satisfactory, consider scheduling food delivery from a local restaurant if your contract permits.
Regardless of your choice, focus on meals that are hearty, convenient, and respectful of dietary restrictions.
"Setting meals up buffet style and choosing items that hold up well will allow vendors to come and go when it is convenient," remarks Nora Sheils of Rock Paper Coin and Bridal Bliss. "Sack lunches are a bad word in the wedding industry, but if done right, they can be filling and convenient!"
But before making any final decisions, Amber Anderson of Refine for Wedding Planners urges couples to revisit their vendor contracts.
"Many might have meal clauses that require being fed what the guests are being fed, timing stipulations, or other things," Anderson explains. "Imagine being fed pizza three nights a week when you work a job that requires strength and sustained energy. Meals need to be healthy, filling, and light to ensure your wedding pros have the proper nutrition to sustain long hours of labor on their feet."
Fortunately, a great caterer and planner can help to ensure everyone is cared for throughout your wedding day.
What does my caterer need to know?
Leading up to your wedding day, your caterer will need to collect vital information about your vendor team to prepare meals accordingly.
"Your caterer should know how many must be fed, dietary restrictions, time, and where the vendors will eat," Sheils states. "Vendors need to be fed at a certain point during the reception so they don't miss out or delay any timeline items!"
Work with your planner to discuss food requirements with vendors and coordinate the details with your caterer.
While vendor meals may not be on your radar at the moment, start planting the seed by scoping out your venue's floorplan and gathering information from your team. At the end of the day, everyone wants you to have a spectacular wedding — and feeding your vendors is a critical component of a successful outcome!
Meghan Ely is the owner of wedding PR and wedding marketing firm OFD Consulting. Ely is a sought-after speaker, adjunct professor in the field of public relations, and a self-professed royal wedding enthusiast.
We've partnered with OFD Consulting to bring you this great advice from their collective of wedding professionals.