Dreaming of a fairytale wedding in an alternative universe that you create? Then we have the perfect inspiration for you! Forget Cinderella and having mice busy at work sewing together your magical wedding ensemble. We found something so much more enchanting; a pastel goth Dumbo loft wedding – complete with purple, black and white hues. Yes please! This one-of-a-kind dreamy setup is the stuff of our wildest imagination, making it the ultimate fit for all unconventional lovebirds out there who are looking to make an unforgettable statement on their big day!
This Halloween-themed DUMBO Loft wedding was such a joy . Caitlin and David had pumpkin decor on their sweetheart table at the venue, and the couple had vampire teeth for all of their guests to wear. Who doesn't love getting their picture taken with fake vampire teeth?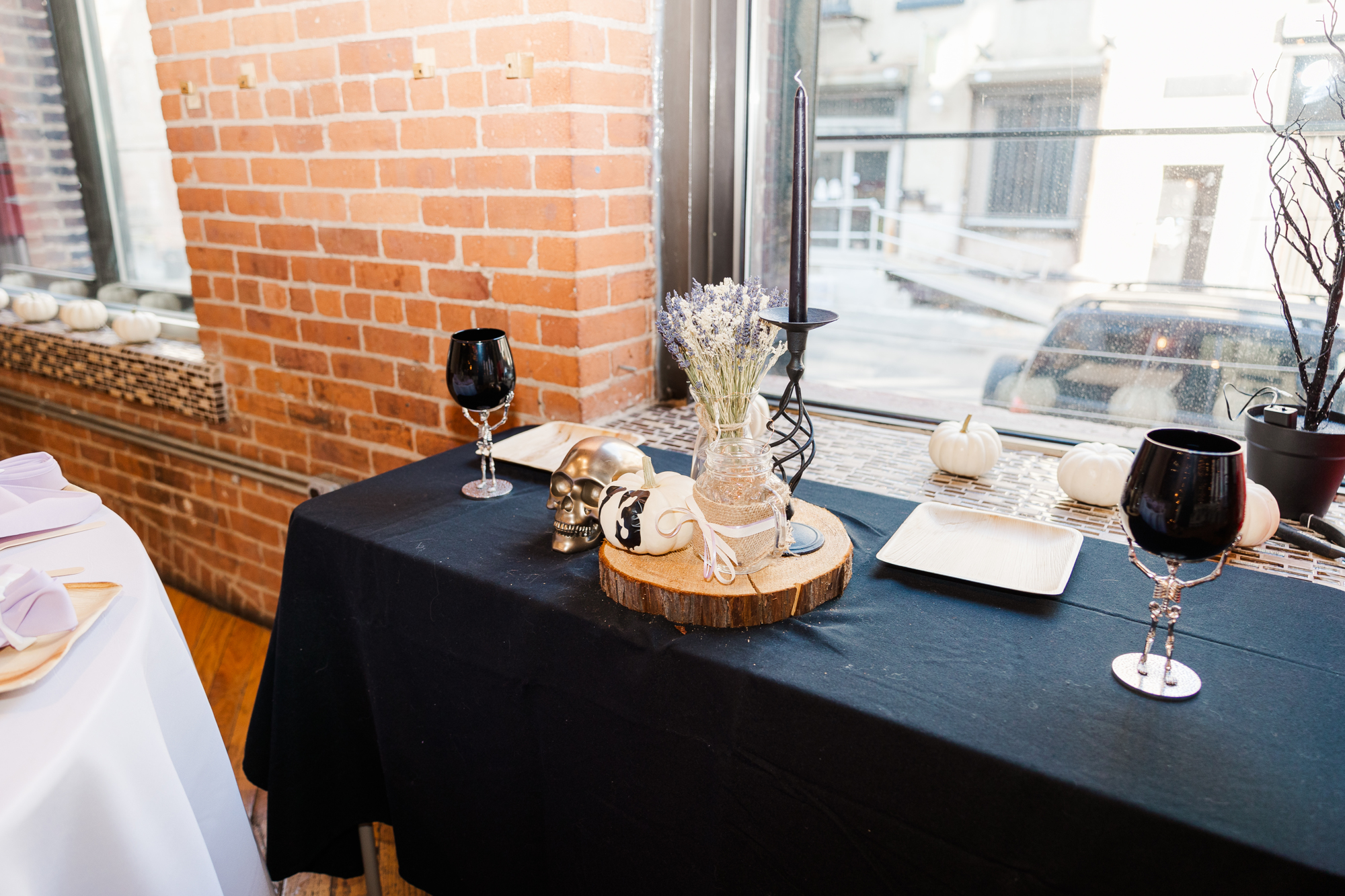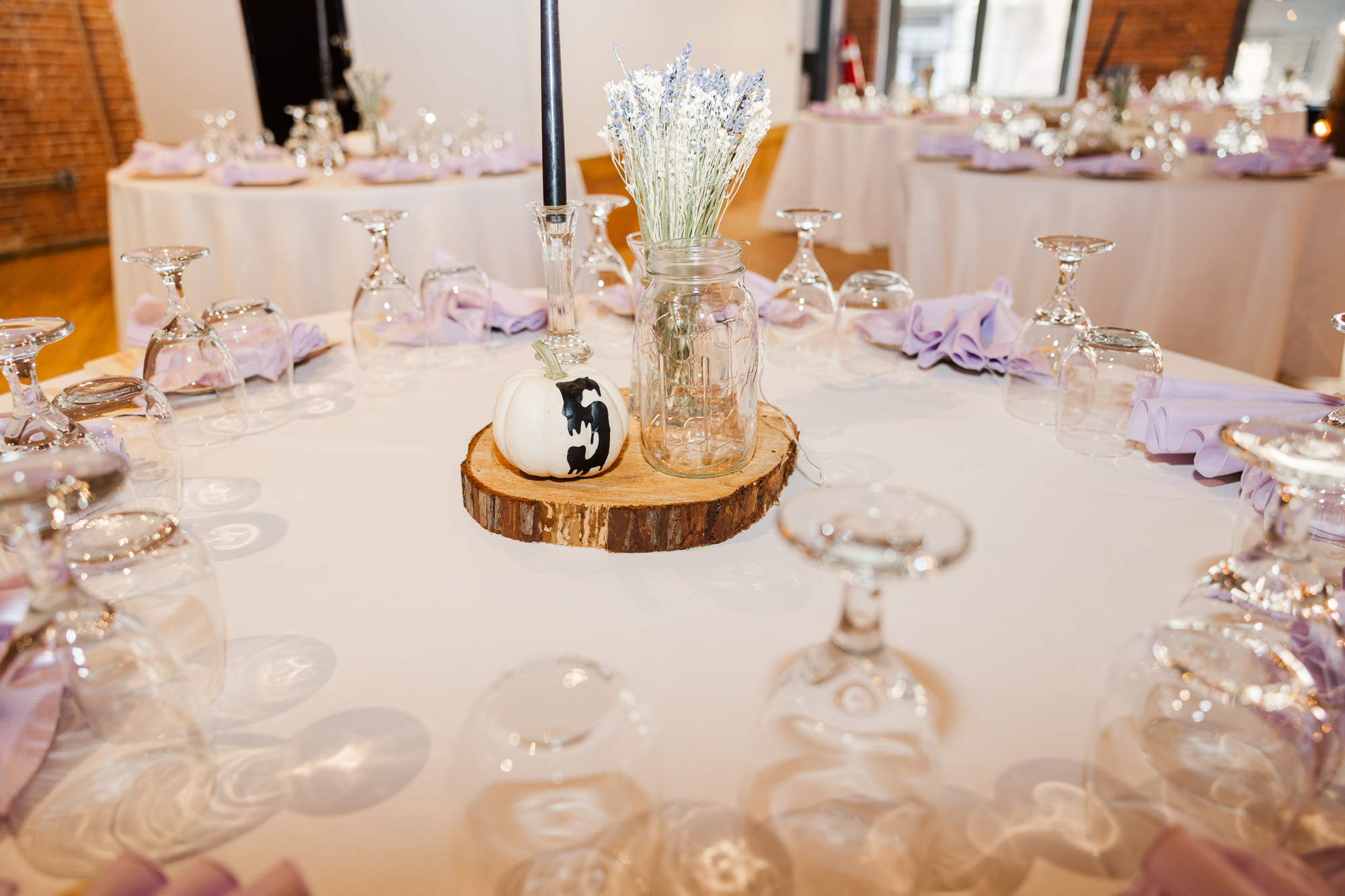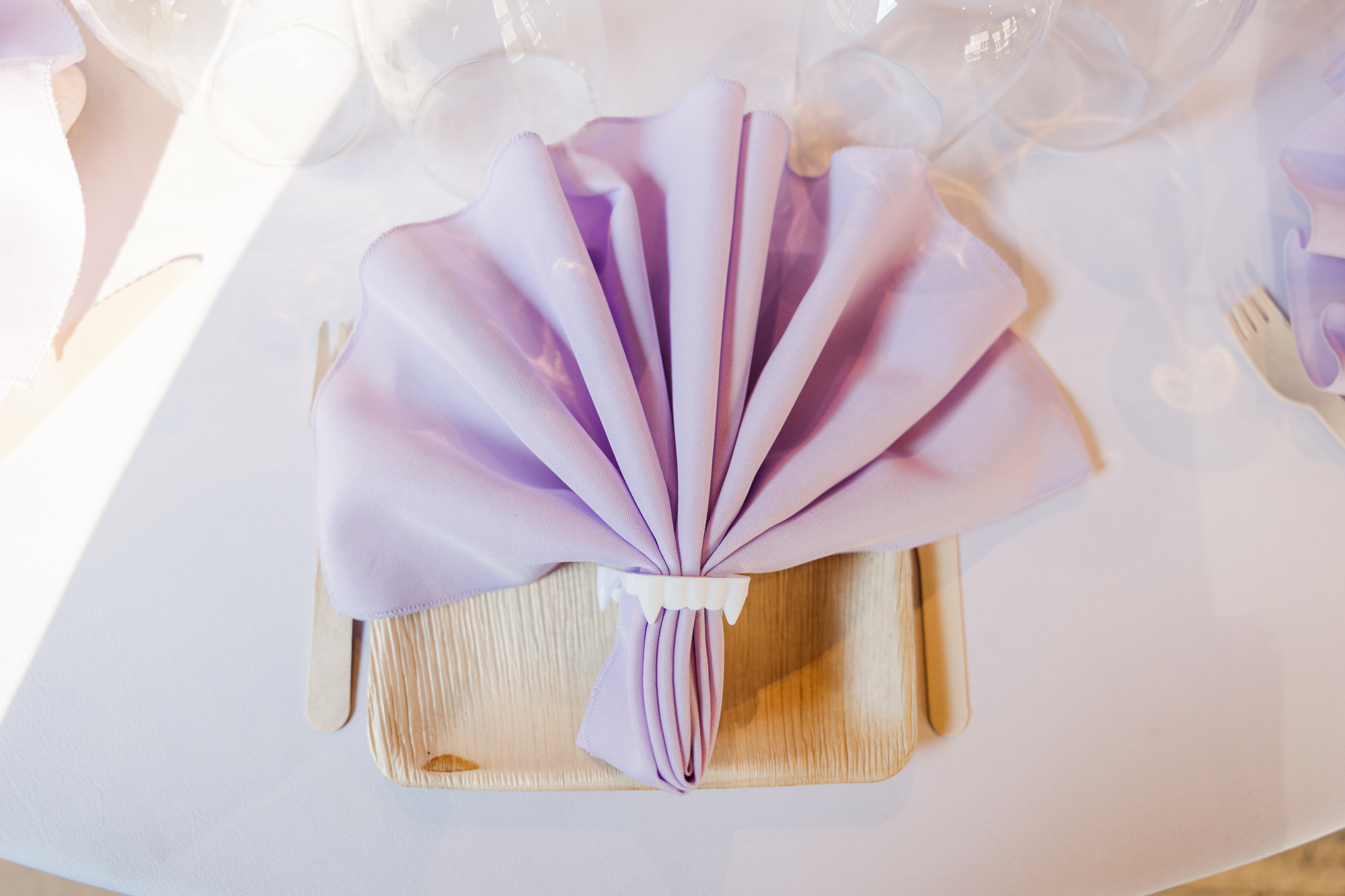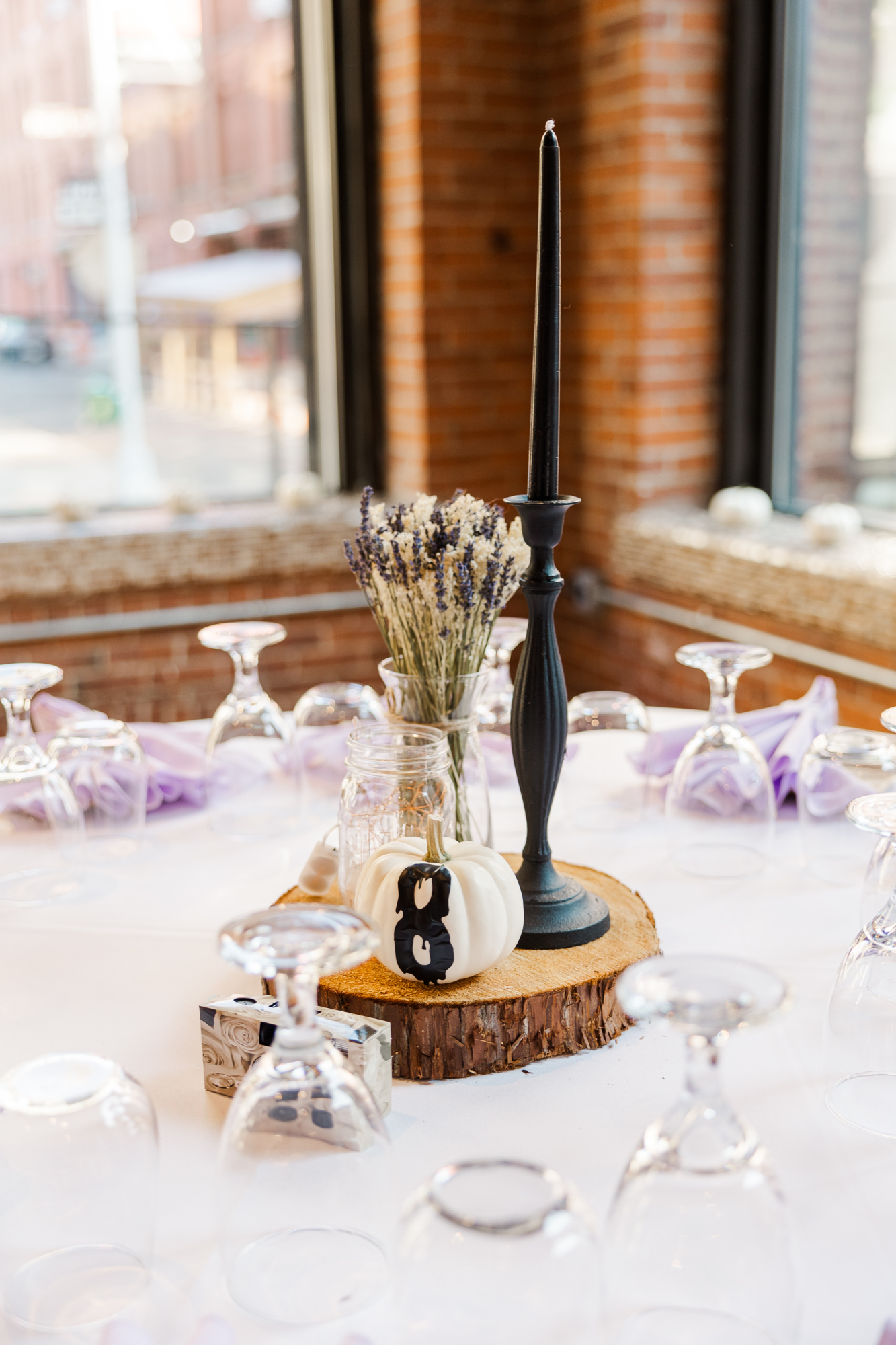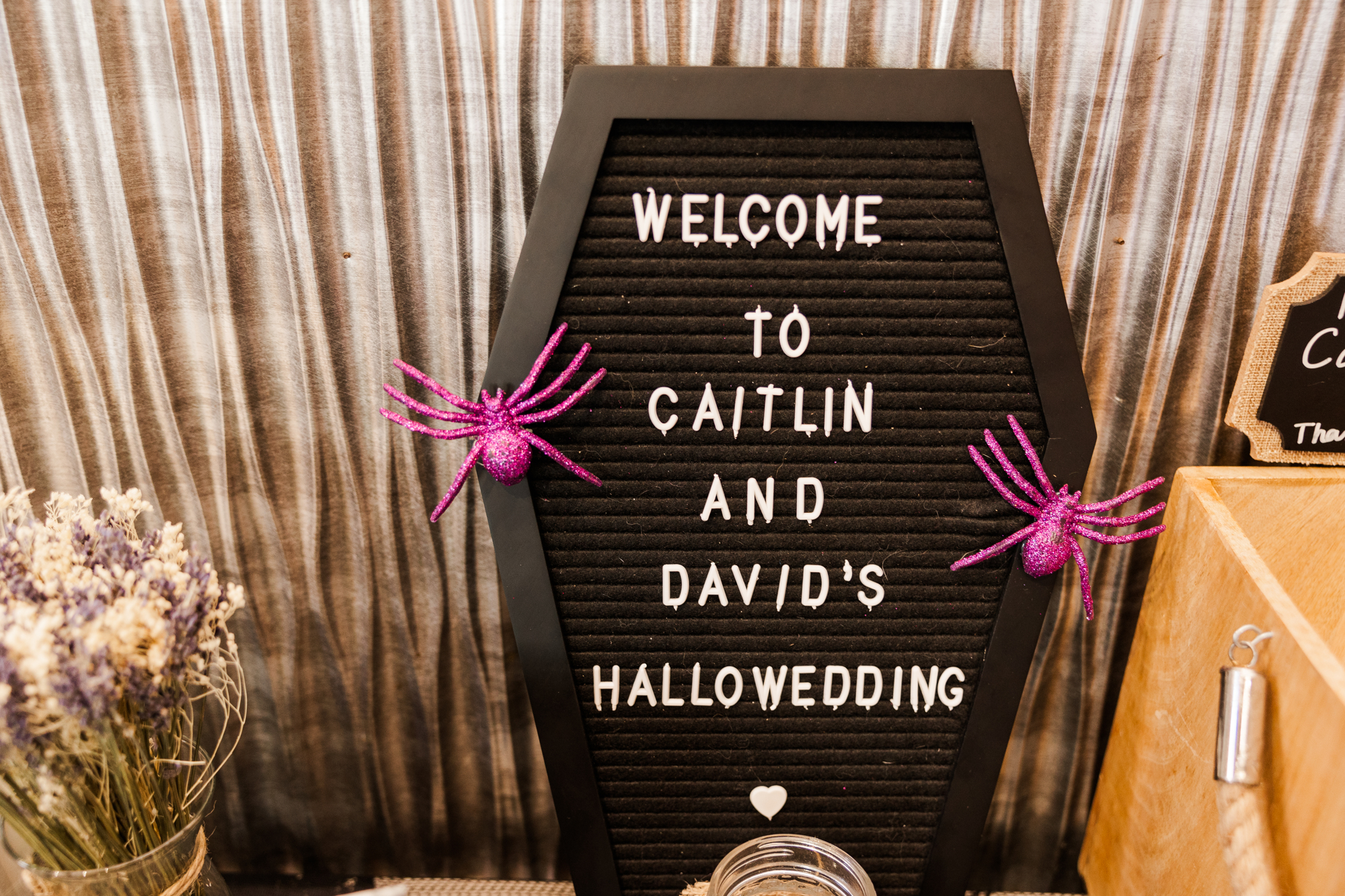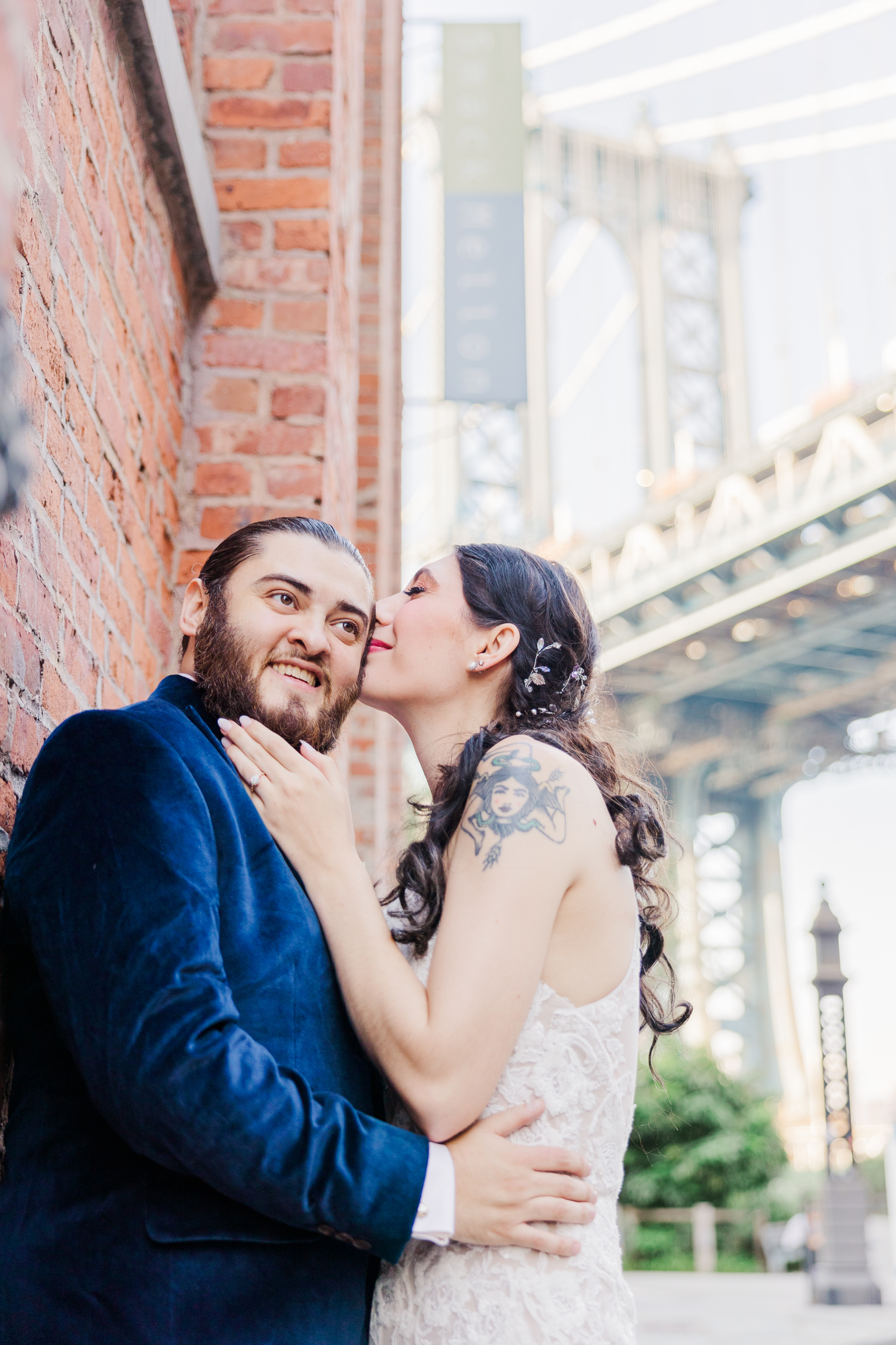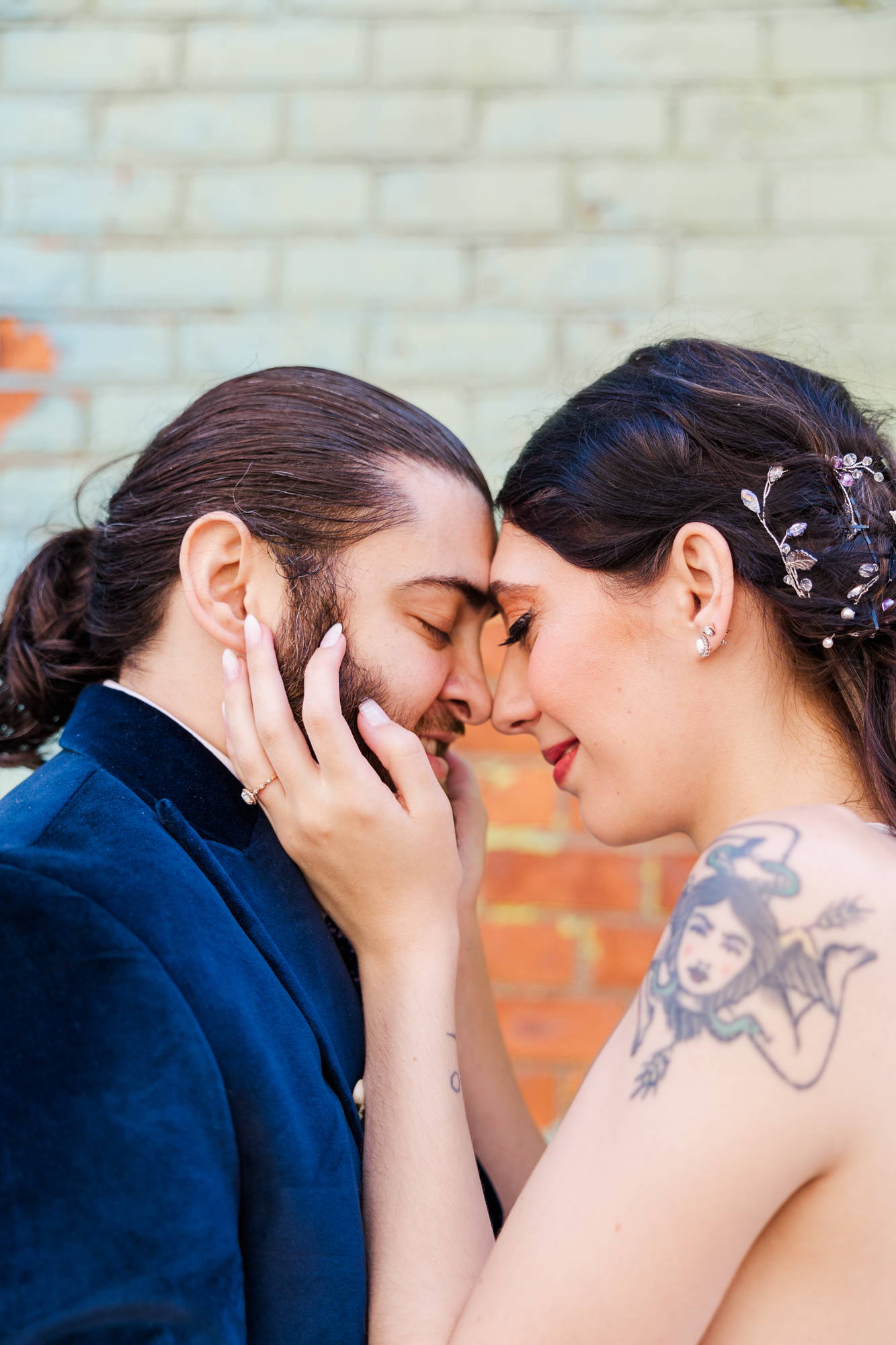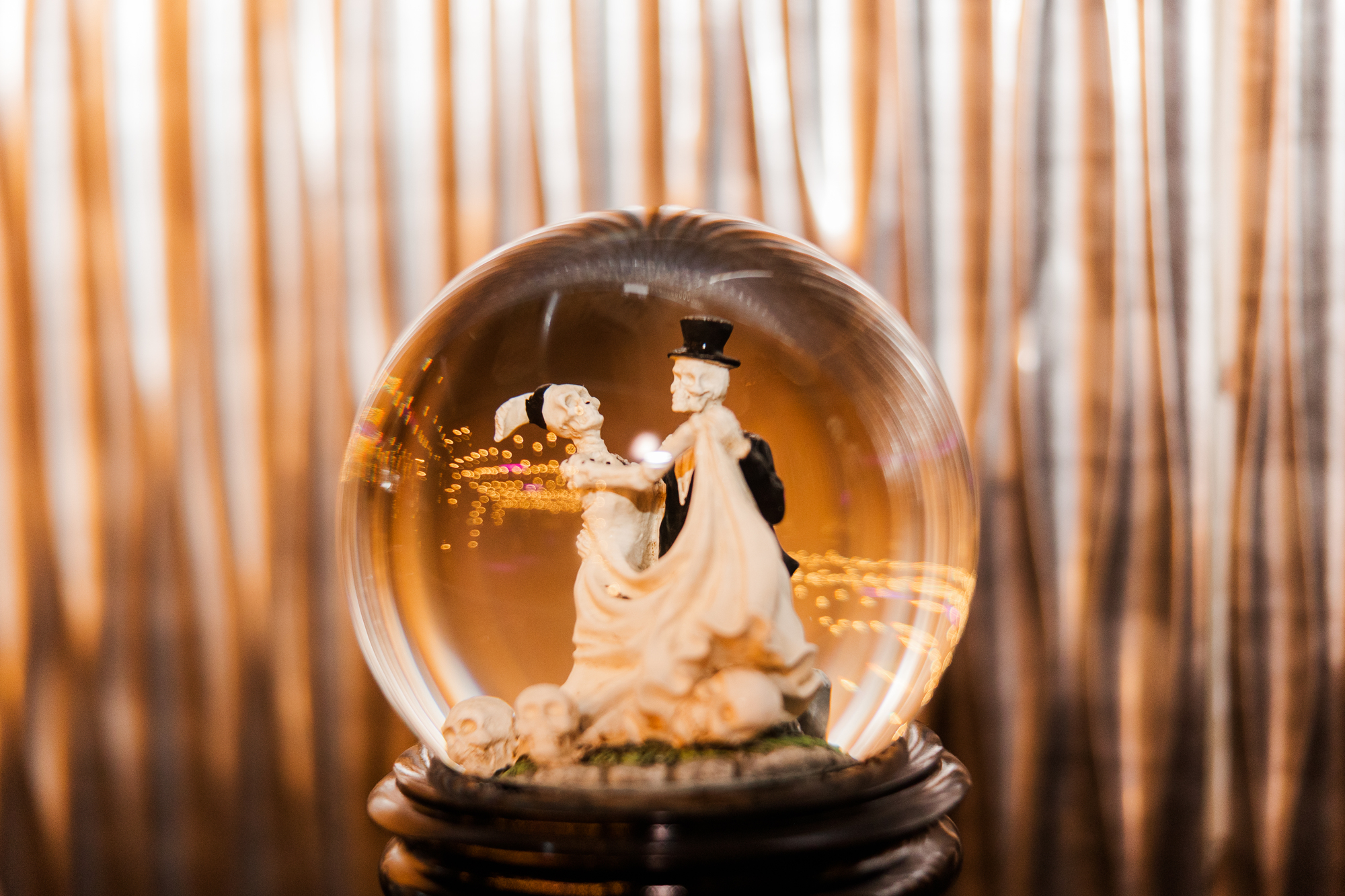 How did you meet?
David and I have a rare NYC meet-cute story because we actually met on the subway! We both lived in Bay Ridge in Brooklyn and happened to be waiting for the R Train at 59th Street station in Brooklyn one night when the train was delayed by about 40 minutes. I (Caitlin) was on my way home from a Lorde show and David was on his way home from meeting up with friends. My phone was dead so I had nothing to do but wait. At some point, David commented on a patch on my jean jacket and from there we started chatting and time seemed to melt away until the train came. We talked the entire time and got on the train together. He asked for my phone number before we parted ways and we got off at the same station. That was a Wednesday and we were on our first date that Saturday. That was in 2018 and we've been inseparable ever since 🙂
What is your proposal story?
We obviously love Halloween so our proposal story is Halloween related as well. David surprised me outside the New York Public Library near Bryant Park on the steps on our way into a Halloween party there. I was dressed as little red-riding hood and he was a wolf, making for some cute Halloween engagement pics from his friend who was hiding in the crowd.
Tell us a little a bit about your wedding
Our wedding was very DIY and we wanted it to be Halloween themed but not too campy – Think like pastel goth in the tumblr days? We wanted it to be a fun party for our guests and fun celebration of our love. We loved the idea of a loft location and Dumbo Loft in Brooklyn had the perfect classic/rustic feel we were going for + provided just the space and chairs so it really allowed for DIY creativity. Our colors were purple and black. We wanted it to feel spooky but lovely at the same time.
Tell us about your attire choices.
Dress is from David's Bridal but I never expected to buy a dress there I wanted to buy a dress online but went shopping to placate her and ended up finding this dress that just really felt like me. Not what I was expecting in terms of shape but I always knew I wanted something that had lace and felt romantic.
What was the most important to the two of you while planning? Was there anything that you chose to splurge on or skip?
Photography was one of the important elements for us! We knew that the photographs from that day would be memories we would cherish for a lifetime and felt that it was important to go with a photographer that we loved and trusted, Megan & Kenneth were exactly that and we love our photos and wedding video. They are perfect!
What were your favorite parts of the day?
The whole day was incredibly memorable and special! Doing our first-look in iconic spots in DUMBO Brooklyn was a memorable moment that I think of fondly when I see couples doing that same thing around there. We also had an emo hour where we asked the DJ to only play an emo music playlist we had put together for a bit- it was so much fun and my mom danced her little heart out to MCR.
Tell us about your wedding flowers.
For flowers we chose dried lavender and babies breath. Dried flowers are a really easy and affordable option for anyone planning a DIY wedding and I sourced them from a few different etsy stores for the centerpieces, bouquets and boutonnieres. We also have matching lavender tattoos and have a connection to that flower so that was a really lovely detail. We played into the October/Halloween theme by using white pumpkins in the centerpieces as well.
Tell us about your wedding cake.
For dessert we really wanted to do mini pies. I (Caitlin) have a gluten allergy so we went with an all gluten free bakery, By the Way Bakery, for mini pumpkin pies and mini raspberry pies. We also included a gluten-free funfetti cake from Milk Bar for the cake lovers.
What did you do for favors?
For favors, I (Caitlin) designed magnets to give to our guests. We thought it would be funny to have them say "I survived Caitlin and David's Hallowedding" in spooky font.
Please describe any DIY, handmade, or personal details.
Most of the wedding was DIY as I did not use a planner. I followed the Dumbo Loft Instagram page for examples of how people did set ups of their weddings in the space and had a couple walk throughs of the space to plan. I purchased Halloween decorations to use as decor and ordered the pumpkins and flowers myself to deliver day of. We used bamboo paper plates to save on costs there. We provided our own alcohol (just beer, wine and white claws). For catering we had Dos Toros provide tacos. I bought plastic vampire teeth to use as napkins (idea from Pinterest) and provided black candy for a candy bar (went to Good will for glassware to use for the candy bar). A lot of the little details came together along the way. The biggest personal item at the wedding was the subway sign; Because me and David met at the 59th Street Subway station we had a big subway sign from the 59th Street subway station, which we now keep in our apartment.
Did you include any family heirlooms or special traditions?
We had an emo hour where we asked the DJ to only play an emo music playlist we had put together for a bit- it was so much fun and my mom danced her little heart out to MCR.
Do you have any advice for couples planning their weddings now?
Don't be afraid to do things DIY! Our biggest cost cuts were from having tacos for the food catering and by doing dried flowers and sourcing those myself. It also really allows you to add the personal touches to your wedding that make it an event that fully encapsulates who you were and celebrates your love.
Post contains affiliate links
Credits
Event made possible by these fab wedding vendors: