If you're looking for a wedding that's as vibrant and unique as you are, it's time to take a trip to Brooklyn. In the heart of this hip borough, you'll find Allie and Brendan's beautiful bohemian wedding, which is sure to inspire you with its eclectic mix of colors, textures, and styles. From the lush floral arrangements to the vintage-inspired decor, this wedding is nothing short of stunning. With nods to both traditional and modern design, it strikes the perfect balance between elegance and playfulness. So if you're ready to say "I do" in style, come join Allie and Brendan on their colorful journey through Brooklyn's most creative neighborhoods!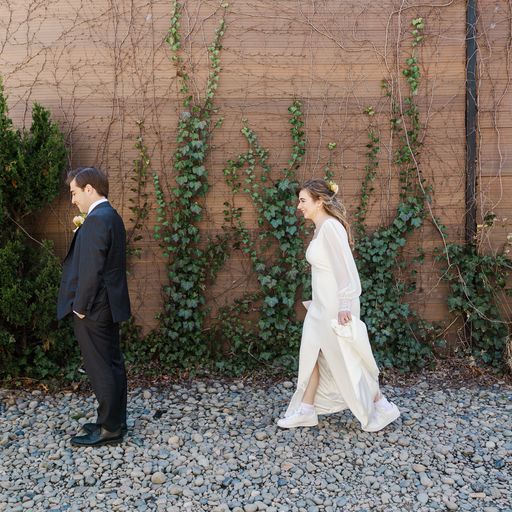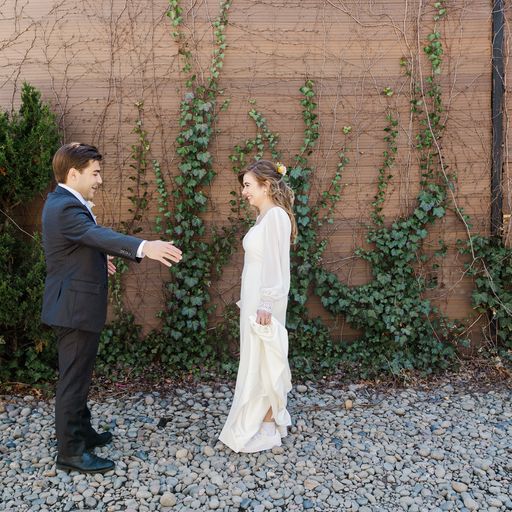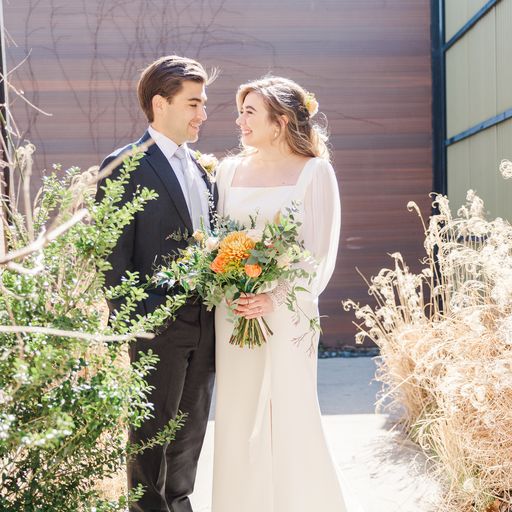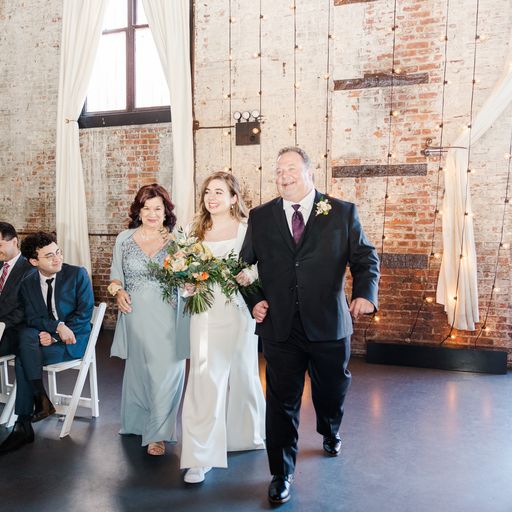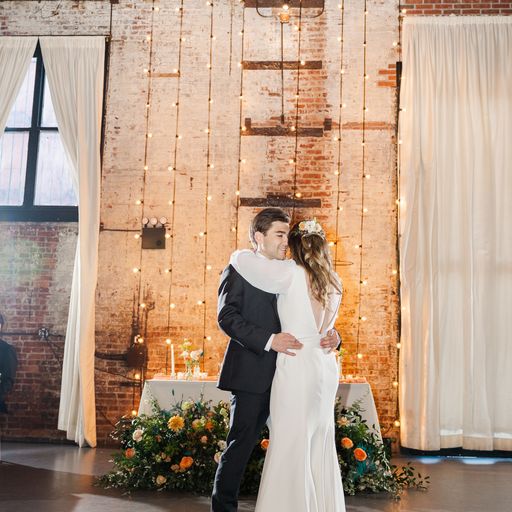 How did you meet?
We both got into Duke "Early decision" in December 2012 so we were actually facebook friends for months before we met in person. Then we just happened to be placed on the same floor of our freshman dorm in August 2013. After hitting it off during orientation week, we started having breakfast together before our morning classes. Don't ask why we thought that Monday/Wednesday/Friday at 8:45 was a reasonable schedule but… seeing each other for breakfast made getting up early worthwhile.
What is your proposal story?
We took our rescue pup Joey with us for a little COVID-safe getaway out of the city in October 2020 to Bar Harbor, Maine. The day before the actual proposal we went to a lighthouse and I teased him: "You know, that would have been a good place to propose." Little did I know he had the ring in his pocket… We booked a beautiful (if slightly spooky) AirBnB alongside a lake on a quiet street: a cozy apartment above an artist's studio. We were walking along the lake looking out into the mountains when he got down on one knee. Joey promptly sniffed the ring and, thankfully, approved, so Brendan could give his speech. I was completely shocked in the best way.
Tell us a little a bit about your wedding
Priority #1 for us was always the food, and that was our biggest splurge budget-wise (totally worth it, by the way), so we saved money in other ways to put together a day that was delicious, relaxed, and fun for us and for our guests. The Green Building is as gorgeous a blank slate as there is, so we knew we wanted to bring in some color and whimsy to contrast and complement the industrial background. While it ended up being more work than a venue with everything included, we loved the process of filling in all our personal details.
Tell us about your attire choices.
We wanted to be comfortable more than anything. I fell in love with BHLDN's boho/modern aesthetic (and the mostly reasonable price point) but ended up visiting several times before I found The One (and it was on sale!!). I always knew I wanted to wear sneakers because I hate heels and I can't walk in them, and why should I be uncomfortable on our ~special day~?
What was the most important to the two of you while planning? Was there anything that you chose to splurge on or skip?
Food food food. Night Kitchen told us we were the couple that ate the most of anyone they had hosted for a tasting and we took that as a compliment. Our favorite part of NYC is the food and we wanted our friends and family to feel that.
We had my aunt and Brendan's dad officiate, which saved some money and made the ceremony feel so much more meaningful.
We had our ceremony on a Friday in April to save some money (once you get into May, the prices double at most NYC venues, and obviously Saturdays are the most expensive). Weather wasn't a huge concern because I'm always warm and the venue was mostly indoors, but we lucked out and got a 65 degree day anyway!
What were your favorite parts of the day?
We are both pretty shy, so we decided to do our vows privately right after our first look rather than reading them out to the crowd, and I'm so happy we did — that was a really special moment.
Also, at the advice of our miraculous day-of coordinator Margaret, we took a beat for ourselves right after the ceremony: in the changing room, she brought us 2 of each of our passed hot our d'oeuvres and a drink, and we were able to decompress and celebrate being married for a moment (and eat!) before being overwhelmed by everyone else.
Tell us about your wedding flowers.
Olivia Howard is a genius!! We went through multiple edits of a "vision board" that helped take my very scattered Pinterest and vague notions of a "vibe" I was going for into a focused, beautiful concept. She was excited to play with color, romance, and whimsy, while keeping it modern and stylish. Our asymmetric ceremony arch was like something out of a dream, it was just so stunning and natural-looking. Her prices were also very reasonable; she did some creative things (like incorporating more greenery, and repurposing in-season flowers by dyeing them) to keep it that way. We re-used that arch for the sweetheart table, which looked gorgeous.
Tell us about your wedding cake.
We have been buying each other Milk Bar cakes for our birthdays for a few years now, they are just our favorite. The "naked", colorful aesthetic and fun birthday cake flavor also fit our vibe for the day, so we thought we would save a few bucks and order a bunch of small ones instead of springing for a huge multi-tiered tower.
What did you do for favors?
We skipped favors and decided to donate on behalf of our guests to the rescue where we got our dog instead (Hearts n' Bones).
That said, we did have a second dessert option that was kind of like a favor — a little s'mores kit that Night Kitchen put together for us — and many guests enjoyed roasting marshmallows at the fire pit.
Please describe any DIY, handmade, or personal details.
I always knew I wanted each table to be named for a significant place in the history of our relationship. So Margaret found this incredible Etsy artist, Antonella at PastelDesignStudio, to do some illustrations of those places for us. We provided her a color palette and a picture of each place, and she did her magic. Then Margaret and I assembled the seating chart and table cards in Canva.
ThatBagLadyCreations on Etsy made cute little paper bags for our s'mores kits that had an illustration of our dog on it and a little note "Thanks for celebrating my mom and dad! Love, Joey"
We also made our Signature Cocktail and "In Lieu of Favors" signs on Canva.
Did you include any family heirlooms or special traditions?
Unfortunately Brendan and I were missing our deceased grandparents on our wedding day, but we found some ways to honor them. My aunts brought a wooden cow that my grandfather whittled (he raised cows in the Azores in Portugal, and made those cow statues as a hobby). My mom brought my grandmother's shawl from her wedding. These items were on display at the entry table with some candles and photos. Brendan, myself, his parents, and his brother and his girlfriend all drank wine at dinner from special crystal glasses that are an heirloom from his grandparents.
Do you have any advice for couples planning their weddings now?
If you are awkward in front of a camera like us, hire photographers you vibe with and ask them if you can book an extra session in addition to your engagement shoot. We did our engagement photos 6+ months out from the wedding to have them in time for our invitations, so by the time the wedding was closing in, we had forgotten all of their advice and how it felt to be in front of a camera. Megan and Kenneth made time for us to have a super quick warm-up session a couple weeks out from the wedding and it made a world of difference in making us comfortable. They are incredibly warm and experienced, very chill but efficient and professional, and the relationship we developed with them made the photos feel much more natural.
Also, HIRE A DAY-OF COORDINATOR IF YOU DON'T HAVE A PLANNER. I cannot stress enough how much of a difference it made to have Margaret and her team there making sure the day ran smoothly. There probably won't be another time when you have the privilege of having all of your favorite people in one room, so you want to be enjoying that instead of stressing about napkin placement. 1000% worth the money.
Credits
Event made possible by these fab wedding vendors: