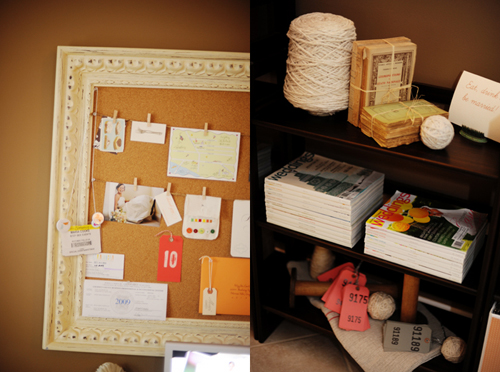 Name: Maria Cooke
Location: Potomac Falls, VA
Company: Ritzy Bee Events
What is your aesthetic? Classic & practical…with a bit of vintage & modern in the mix.
How does your studio style convey your professional aesthetic? The space is not too fussy/stuffy and I believe has lots of inspiring details!
Favorite part of your studio? My big zebra print chair…I didn't want a traditional office chair. It's more like a mini couch I can relax & work on.
Where do you go for inspiration? Wedding and design blogs.
What tool do you use in your business that you can't live without? Two things…my iPhone & my GPS…don't know what I would do without them!
Is there anything you'd upgrade to? I would love to have a shared studio/storefront space with other creative folks someday…like a photographer & invitation designer.
Anything else we should know? I have a hard time throwing away paper…especially letterpress cards…I found a solution to display them on the fun carousel display from Pottery Barn. It sits on my meeting table so everyone can seem them!