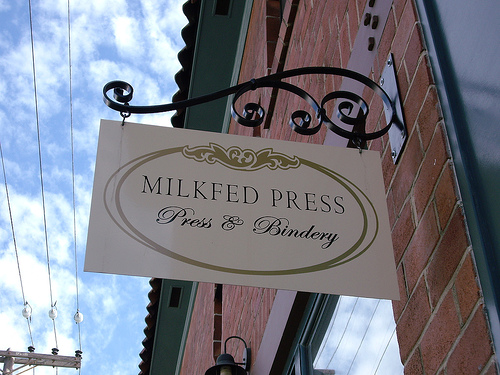 Name: Victoria Heifner
Location: Oakland, CA
Company: Milkfed Press
What is your aesthetic: "Ye Olde Chic" [ha ha].
How does your studio style convey your professional aesthetic?: For starters, I  think that the equipment I use is so beautiful. I consider myself to be more of a craftsperson than an artist, and I try and utilize all of the things in my studio. All of the vintage cuts, the wood type, my linoleum cuts—it's all part of my working process.
The studio itself was a grocery store long ago, and I still have some of the original pieces from then. The Wonderbread counter, the baskets where I keep my cards are all recycled. Sort of like my (once obsolete) equipment; I like to give things new purpose, new life.
I like to think that this is conveyed in my design and working process, too.
Favorite part of your studio?: First choice is on-press. Another little detail that I love, is my transom window. Sounds silly, but I have a long stick with a hook on it (what is the official word for this?) that I use to open it. It's the same way we used to open the windows in elementary school, and it makes me smile every single time. I am a bit of a princess in this space–it's quite large and I am the only one who works here. I love that.
Where do you go for inspiration? : The grocery store and the library. I am a nut for interesting or foreign packaging. Funny that I work in a reclaimed grocery store and yes, I used to work at a library.
What tool do you use in your business that you can't live without? : My printing presses!
Is there anything you'd upgrade to?: For a few years I was considering the larger, more production-oriented Windmill press. I've decided that the slower, hand-fed methods that I use, while more time-consuming, suit me just fine. I like the quality I can produce and each piece really becomes a work of art.
Anything else we should know?: Thanks for letting me share my space with you! The funny thing is that a majority of my of my clients live out of the Bay area, so never come in to my space itself. While I am in love with all-things old, I am grateful for the technology which lets me create and work with people all over the country. xo Victoria
This beautiful press is dated 1871. It originally came with a treadle (like the treadle sewing machines) for the power, but at some point, someone put a motor on it. It's a beautiful piece of equipment and I love just it!
self explanatory! I love the baby food tags.
These are some linoleum cuts that I've done for show posters. The linoleum comes in a solid block, and you carve out your design/type/image. I creates a relief of your image that you can then print with. It's old-school, for sure.
Can you believe that I bought this wood type and it had never been used? I inked up the #2 and you can see how the raised numbers get inked, and when they're in the press, they 'press' into the paper.
a sampling of my wood type collection.
I LOVE this press. Every single sheet of paper is hand-fed and hand-cranked to print. My right arm is amazing.
[images from Milkfed Press]