Yet another fab wedding from the talented Kate Headley.  Everything about this affair was stylishly chic, right down to those gorgeous jewel encrusted shoes!  More from the bride after the jump.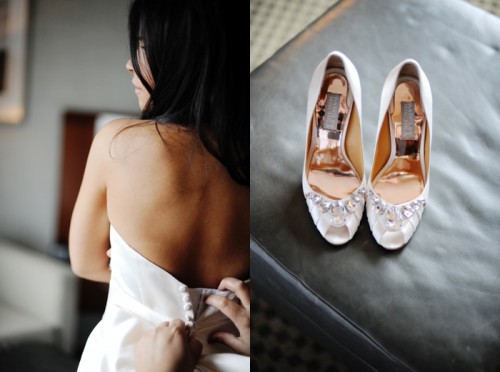 My sister-in-law described our wedding as a 'brilliant melange of retro-urban chic'. This is exactly what we envisioned we planned our destination wedding in Pittsburgh. From our wedding attire to the venues, we wanted to all of our guests to experience our love for all things urban as well as the history and charm of the city where we fell in love.  My husband called Pittsburgh home for the first six months of our relationship. He was working there while I was in graduate school in Washington DC. On the weekends I would make the drive to Pittsburgh to visit and we would explore the downtown area. We both completely fell in love with city's character…the steel bridges, Victorian row homes, the many gorgeous churches, open air market, art museums, theater district, 100 year old incline cable car, the people AND that skyline view. We loved it all! For us Pittsburgh was a hidden gem that we couldn't wait to share with our guests.
It was important to us to make our wedding fun and relevant while reflecting our cultures, interests in food, fashion and all things urban. All of this while keeping to a strict budget. We enlisted the help of our several wonderful vendors who helped make our dream a reality. We worked with our caterer, Rich Rosenthal of M-Catering, to create a Afro-Caribbean/Latin American inspired cocktail menu that reflected our Ghanaian and Puerto Rican backgrounds. The menu included choices such as sangria, delicious homemade plantain chips, Puerto Rican style Pernil, watermelon gazpacho shooters and grilled shrimp skewers with Ghanaian chili sauce. We groom and I are also big fans cupcakes, a new trend in Washington DC, and decided to serve a variety of cupcakes instead of traditional wedding cake. They cupcakes were such a hit that they were all gone within 20 minutes. One of our guests even make a special trip to the bakery in Pittsburgh the next day to pick up a dozen more for the road!
We choose the contemporary Mattress Factory Museum to host our cocktail style reception. We really wanted our reception be relaxed and fun so we opted for a reception style and ambiance that encouraged guests to mingle, eat at their leisure and dance. The Mattress Factory space was perfect for this. There was a loft-life indoor space and charming little urban garden. Our guests loved the outdoor space so much that they moved the dance party outdoors!  The museum's event planner, Gina D'Amico, was great to work with and gave us a lot of freedom in terms of decorating. The space was a blank canvas compared to other venues we looked at and we loved the urban feel of it. The site itself was really hip and we able to take advantage of existing artist installations in the garden so we didn't have to do a ton in terms of decorating. A few candles, simple vintage milk glass bud vases, (flowers purchased wholesale and arranged by my lovely bridesmaids and I) dahlias and voila!, a budget-friendly beautiful reception venue in the city.
Prior to all the excitement of the reception we got married at St. Paul Cathedral in the Oakland neighborhood. Having a traditional Catholic wedding at a venue with history and beautiful architecture is what we were looking for and we found that at St. Paul. The cathedral completely breathtaking and had a long aisle for us both to make our grand entrances and see each other for the first time.  Getting married at St. Paul was both spiritual and romantic.
I would the say the most fun part of wedding was figuring out what to wear and revealing our final looks on wedding day. My handsome groom sported a sleek black tuxedo purchased at J. Crew and a slick pair of tennis shoes. Neither of us loved the look of traditional tuxedo shoes so we were thrilled when he found a more trendy pair shoes that both he and groomsmen could wear again. We also loved the patent leather strap on the shoe. It qualified them as tuxedo shoes in our eyes. For my dress I wanted something modern but with a bit of a vintage glam feel. I found beautiful gown with a mermaid silhouette that was perfect. And with the help of a great seamstress I was able to make several changes to the gown to really give it that modern feel. I also picked up a classic champagne colored satin pencil skirt and ruffled ivory shirt I could change into at the reception. I paired both my wedding gown and my reception outfit with what I undoubtedly my favorite part of my attire, THE SHOES.  My four-inch bejeweled ivory satin pumps were the most fun and sexy pair of shoes I've ever worn. (Thank you Badgley Mischka)The satin and big rhinestones reminded me of old Hollywood glamour. I LOVED them so much that I am having them dyed so that I can wear them for years to come!
A special thank you to our amazing photographer Kate Headley for making the groom and I feel like models for a day. She truly captured the emotion and details of the day, in a city we both love. We are so grateful to have worked with Kate and see all our visions come to life on film. I never imagined that running around the city in a wedding gown and taking pictures in an alley way could be so fun! These unscripted moments are as special to us as saying 'I do'.)
Photography by: Kate Headley
Church: Saint Paul Cathedral
Reception: Mattress Factory Museum
Catering: M-Catering, Rich Rosenthal
Cake & Cupcakes: Vanilla Pastry Studio
Hair & Makeup: Posh Salon
Dress: Casablanca
Reception Attire: Club Monaco
Bride's Shoes: Badgley Mischka
Groom's Tux: JCrew
Groom/Groomsmen Shoes: Creative Recreation
Groomsmen Tuxes: Men's Warehouse
Bridesmaids Dress: Dessy Collection
Bridesmaid Shoes: Lela Rose for Payless
Flowers: Homemade bouquets and arrangements
Invitations: Homemade
[images from Kate Headley Photography]