Normally on my birthday I like to do the ole annual survey, but since we did that already, I figured a fabulous real wedding is even better, so enjoy!  Ahh, the joys of seeing a modern Montreal wedding…my cousin Sheila got married at this same venue, so I can attest to how cool it is.  Jordan gives the details below…[come back at 1pm for the MSW ticket winners!]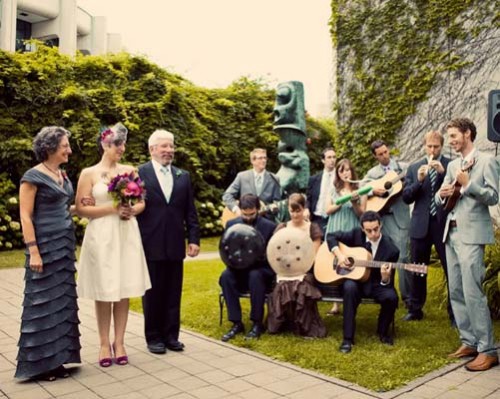 Mikael and I never intended to get married. We had been together for 6 years and were steadfast in our commitment to each other but not so into the idea of a wedding and all its hoopla. However, things began to change slowly as we attended wedding after wedding, summer after summer, and saw how amazing an event a wedding could be. More specifically, we began to see how new communities of friends and families were brought together in such a joyous and harmonious way through marriages. So we hopped aboard the wedding train and gathered all of our favourite people in Montreal, the city where we fell in love and continue to live.
Because we were so staunchly against weddings for so long, the process of planning our own was quite slow and often challenging. We knew that we wanted everything to reflect our lives and values and for the day to be as personal and meaningful as possible. We were also committed to making the event as green as possible and minimizing the purchase and use of wasteful, disposable items. Vintage, reusable and handmade items were sought out wherever possible. Luckily, we have some incredibly talented friends and family members who offered their skills, time and some sweat and tears to our labour of love.
Venue: We chose the Montreal Museum of Contemporary Arts as our venue for the ceremony and reception. The ceremony was held outside in the Sculpture Garden and the reception was held in the Main Hall of the museum. Lucky for us, both spaces are so beautiful and filled with art so we had to do very little in the way of decoration.
Invitations: Because invitations are often one of the most wasteful aspects of a wedding, I was determined to find or make ones that a) could be enjoyed after being opened and b) were made from recycled paper. My late grandmother was an avid collector of just about everything and I happened to come across 4 shoe boxes full of vintage postcards from the US and around the world. With the help of my very talented aunt, who is a graphic designer, we designed invitations in the form of little, ribbon-tied booklets. Two vintage postcards formed the front and back cover, with all of the wedding information printed on recycled paper on the inside. They were mailed in envelopes made from recycled maps purchased online. The whole process took hours of assembly but the results were outstanding. As much as possible, we tried to match postcards for each guest so that people living in New York received NY postcards, etc. We also used vintage postcards to decorate a map at the reception that displayed the seating arrangements. We asked guests to RSVP by email through a website that Mikael and I created to reduce paper waste. Many of our guests called to gush about the invitations before the wedding and vowed to treasure them forever, so mission accomplished!
Attire: My dress came from Jenny Yoo in NYC. I was so thrilled to find a dress that was not only knee length but also had pockets! Most of my jewelry came from my grandmother. My hair piece and veil were handcrafted by my dear friend Anna who is a multi-talented artist. She used found feathers, silk, and more bling from my grandmother to create a detachable hair piece that I will definitely wear again. Mikael wore a light grey, plaid suit from Martinque. We asked our groomsmen to wear dark coloured suits and the bridesmaids to wear a dress in any shade of turquoise. Our florist, Carmel, made boutonnieres for both the men and the women from vintage feathers, buttons, and fabric that can be used as a pin or even hair piece. We gave each of the guys a tie and pair of cufflinks made by a Montreal artist from recycled items like Scrabble tiles or keyboard keys. Each of the gals received a clutch from local vegan designers Matt & Nat..
Rings: Our rings were hand made from silver by the very talented Rachel of Brazen Design, a fantastic Montreal jeweler. She custom designed them and consulted us throughout the whole process, which was a really great experience.
Flowers: Until two weeks before the wedding, I was convinced that I was going to take care of all of the flowers myself. As the wedding approached and reality set in, I realized that I was crazy! I'm so, so glad that we hired Carmel of Carmel Atelier to create our centerpieces and my bouquet. We decided to use only locally grown flowers and greens. Dahlias were in season, so they made up the bulk of the flowers. Carmel arranged the flowers into small vases and jars collected in my grandmother's basement. The table numbers were cut out of more vintage postcards and everything on the tables was arranged on top of squares of fabric which are now being used as napkins, all Anna's doing. Because the event was held in a museum filled with beautiful art, the flowers were all we needed to add to decorate. We also set up a table with family photos which provided a few laughs and was our way of honouring those in our families who are no longer with us. [more pics on her blog]
Ceremony: In Quebec, you can be legally married by whomever you chose as long as you fill out the right paperwork in a timely fashion. We chose a dear friend to legally marry us and she officiated the ceremony with the help of another close friend. Together, Mike and Carla wrote the ceremony which was short and very sweet. Though the ceremony was not religious, we incorporated some elements of a Jewish wedding (Mikael's family is Jewish) such as standing under a chuppah made from found birch branches and assembled by Carmel. Mikael and many, many of our friends are musicians, so the ceremony began with a piece composed by Mikael and was performed by him and a group of close friends. Later in the evening, the dance party was dj-ed by another close friend and musician. In lieu of vows, Mikael and I recited the e.e. cummings poem "i carry your heart (i carry it in my heart)."
Food: Our meal was catered by Binky of Fuchsia and was some of the best food we have ever tasted. Sticking with the local theme, the vast majority of the food served was seasonal and locally produced just outside of Montreal. The appetizers were served either in edible or compostable leaves, tarts, and cups.  We hired bartenders to serve alcohol that we purchased ourselves, featuring locally brewed beer and signature cocktails made from herb & flower syrups concocted by Binky.
Photography: We chose the amazing Irene Suchocki to photograph our wedding. Irene is a vastly talented fine art photographer with photo credits ranging from book covers to Urban Outfitters tote bags. Interestingly enough, we found her just as she began to dive into wedding photography. Because she comes from a fine art/landscape photography background, her photos carry this amazing quality that really captures the whole energy of the shot, from the light to the scenery to the tiny details just over your shoulder in the background. We weren't interested in standard portraits so Irene brought us into the colourful, funky streets of Montreal to capture both the joy of the moment and the energy of our beloved city. We are just so impressed by her work! You can see more of her work on her blog or visit her etsy shop.
All in all, we had the most incredible time at our wedding. I can honestly and with great surprise say that it was the most fun we've ever had!
[images from Irene Suchocki]