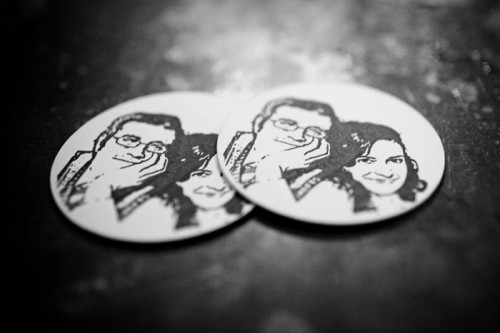 Jenny always sends me the best weddings! This one took place in Red Hook, which I think might be a first for me, so I was excited to see how cool everything turned out! Jess gives all the juicy details below…
Chris and I were married on September 12, which, as near either of us can guess, just about marked our twelfth year together. We met in college in Indiana, where I'm from. Since then, we followed each other to Texas and then to New York, and have grown together and supported each other through various crazy plans, impoverished states, graduate degrees, and a couple of different careers. Now I am a lawyer in the city, and this year, Chris completed his PhD and got an assistant professor position here. It's been a big year, and a good year to get married!

We have lived in Brooklyn since 2001 and most of the people we wanted to celebrate with us live here, so we never considered getting married anywhere else. Brooklyn is home! We got engaged on October 2008, but didn't really start planning until mid-to-late Spring. We wanted to have our favorite people there, and to plan a ceremony and party that fit us – warm, low-key, and classy. We *think* our wedding was those things – but we *know* that almost everybody (including us) cried at the ceremony, that the dance floor was packed at the party, and that it was the happiest day of our lives (so far).

Ceremony: Louis J. Valentino, Jr. Pier in Red Hook. We chose it because it is an intimate, secular spot and a "real place" that we can visit on our anniversaries (or anytime).

Reception: Botanica. Gorgeous, close to the pier, with amazing crafted cocktails and the perfect size for our 80 guests.

Officiant: Lisel Burns, Clergy Leader Emerita from the Brooklyn Ethical Culture Society.

Wedding Party: We asked friends and family to be involved in and help with our ceremony, and had planning help from several good friends whom I also invited to hang out with me as I got ready for the wedding, but no matching dresses or having to stand in a row in front of everybody at the ceremony. Chris' two brothers were his de facto groomsmen.

Photographer:Jenny Jimenez. Jenny's photography is beautiful without being overprocessed, photojournalistic but also creative. And her subjects all look so comfortable, her warmth just comes right through her lens. She is Seattle-based, but as it turned out she was open to coming to New York for a visit in early September since she has family nearby. Jenny captured beautifully every important moment, made us and our guests look fabulous, and took a lot of care in scouting some amazing locations and shots ahead of time. And she's a great dancer!
As far as we were concerned, those were the big things. Here are the rest:

Dress: Nicole Miller. (Okay, now that I visit your archives, I see that my dress was uberpopular this year, hahaha. One thing I love about it though is that it sort of looks different on everybody!)

Shoes: Oscar de la Renta

Chris' suit: Custom, from L&S Men's Clothing in Midtown.

Flowers / decorations: Nicolette Camille Floral Design


Alterations: Susan Ruddie / The Wedding Dresser. Not only was her work incredible (I'm only 5'1" and my dress was not, it required some major surgery!), but she makes house calls, at least in Brooklyn. I am a terrible klutz, so the idea of traveling with my dress was terrifying. Susan even delivered it to the hotel so that I would not have to schlep it anywhere.

Cake and desserts: Trois Pommes Patisserie / Emily Isaac. Our friend Carrie made our cake topper.

Rings: Mine are both by Ayesha Mayadas from Clay Pot. Chris' is by Blanca Monrós Gómez.

Music: Our friend Mike played acoustic guitar before and after the ceremony. Our other friend Mike was our DJ.

Coordination: We did not officially hire a coordinator, but Christine Viola of Exquisite Affairs Productions had worked and befriended a dear friend of mine, and she offered herself to answer a lot of our dumb questions ("Where should we stand during the ceremony?" "Are balloons a stupid decoration?" "Do we have enough tables and chairs?") and held our hands through some last-minute issues that came up. She gave great guidance and was always positive and patient. If she had not already been booked on our wedding day, we would have hired her in a flash.

Other personal touches: As a small surprise, I had Chris' grandfather's watch restored and gave it to him before the ceremony. I had also found on Etsy some vintage linen hankies embroidered with our initials, knowing we're both huge saps and would need them.

I have too many hobbies and a blog to document some of them, the major one being knitting, but I viewed our wedding as a little bit of an opportunity to try a new one – Gocco. Each Gocco project is documented, including lessons learned and resources, at Fig and Plum:

Invitations: http://www.figandplum.com/archives/000901.html


Coasters & CD Covers: http://www.figandplum.com/archives/000913.html


Tote bags: http://www.figandplum.com/archives/000906.html


And um, I also knitted a shrug: http://www.figandplum.com/archives/000908.html


I asked Chris whether he had anything to add, and he said that the parts he remembers the most from our day are the elements we knew we wanted from the very beginning (those "big things" above), even though we obviously had a lot of other things to think about later. I feel the same way.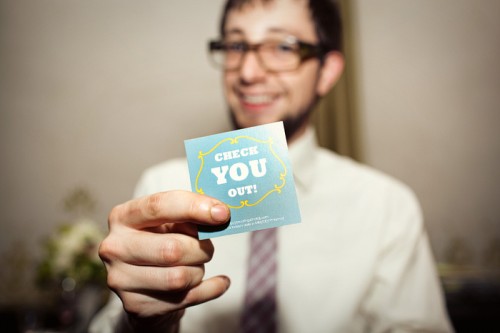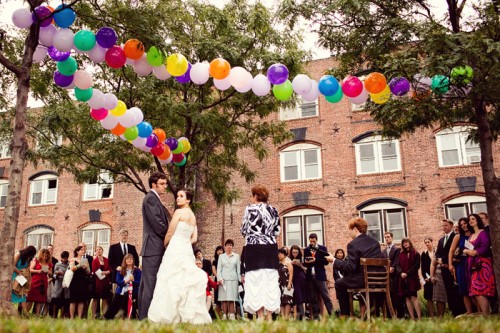 Balloon garland…why didn't I think of that??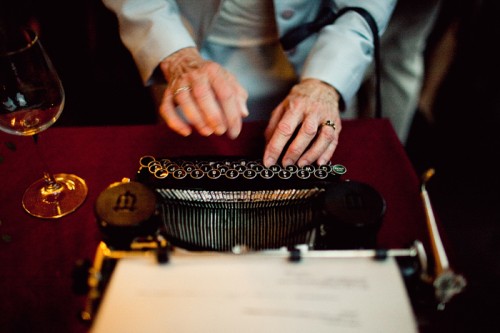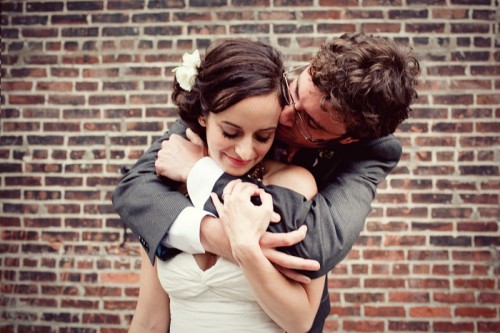 [images from Jenny Jiménez Photography]