Its not every day you see a wedding with practically no flowers used…but thats just the case with Amber + Joe's wedding!  They had some pretty talented family and friends helping them out, but Amber can explain it better…
us: We met in our first class in the graduate program in anthropology at The New School for Social Research.  We were casually disinterested friends for two and a half years before we were in a study group together and realized we were in love.  We decided to get married because we love each other so much, and a wedding seemed like a really good way to celebrate that with the people in our lives.  We both love books (ok, we're nerds), our friends, and don't care for impersonal wedding traditions, so we decided from the start that we could make our wedding whatever we wanted it to be.  When things got stressful we would just say to each other, "At the end of this we get to get married!"  Most of all, we wanted everyone to have fun.
Our parents helped us so much, but as struggling anthropologists, we still had a very small budget to work with, so we and our friends constructed, created, wrote, and made every part of our wedding.  It was truly collaborative, and truly us.
paper goods: We made the save-the-dates out of old book pages, stamped with our initials and imprinted with a coffee stain.  We also created our thank you cards with stamps and paper flowers we made. The only thing these cost us was postage!  Our friend Tracey who is graphic designer beautifully designed our invitations and we had them letterpressed at Letterpress Chicago.
clothes: Amber's dress was from Priscilla of Boston, and her sister Crystal made her pouf from tulle that matched the dress.  Joe's suit was J. Crew and he had his shirt custom-made by the talented folks at 20 Peacocks.
place: We wanted to get married in a place that was warm and comfortable, but also a somewhere that exemplified New York, because we both love the city.  Gary's Loft was perfect–an open space with tons of character, walls of windows and skylights with views of the Empire State Building.
decorations and favors: We made everything!  Our friends collected glass pickle, jelly, baby food, and spaghetti sauce jars for months, and we put long-burning tea candles in them for lighting.  Joe's mom got us a bolt of organic fabric to cut for tablecloths.  We collected lots of used books to decorate the tables (books were also favors to be taken home!), and the tables were named after places important to us when our relationship first started.  The escort cards were made out of old book pages, and the food and drink menus were old library books.  We also stamped paper bags and filled them with local New York apples for people to enjoy.
flowers: The only live flowers we had was Amber's beautiful bouquet–a couple of hours before the wedding she ran into L'Olivier on W. 14th St. and asked if they could make her something to walk down the aisle with! We made felt flowers as corsages and boutonnières for our families, and we made about 500 paper flowers out of old book pages to decorate all the tables.
rings: Amber's sister, Crystal, is a jeweler (her company is called Tigerhouse Jewelry) and made our wedding rings.  She designed them with us, and made them by hand, and then cast them in platinum and palladium. We love them.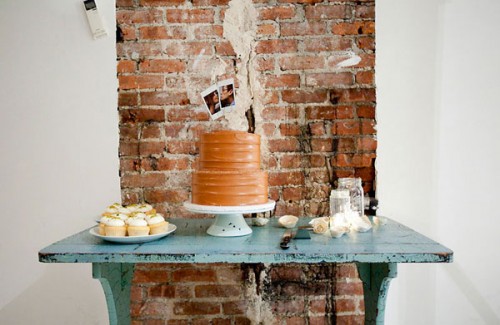 cake: Like dinner, we wanted cake that people would love eating, so we got a two-tiered Sweet and Salty cake (and some Aunt Sassy's pistachio cupcakes) from Baked in Red Hook.  People told us it was not only the best wedding cake they had ever had, but the best cake, period.  Unbelievably delicious.  We made our cake-topper ourselves, Polaroid pictures of the two of us.
music: Our friend Jed was our music coordinator, and he made sure the dance floor was always packed!
photography: Jenny Ebert.  We can't say enough about how exceptional and stunning Jenny's photographs are.  Not only is she tremendously talented, she takes great care to find out about you, your wedding, and what is important to you.  Photographs were a big deal to us, and choosing her was one of the best decisions we made.
the ceremony: Our friend Megan was ordained in order to perform our ceremony for us. It was incredibly important that someone who loves us both married us!  We wrote the entire thing, including our vows.  Our sisters are a huge part of our lives, so we asked them to speak during the ceremony.  They were both sweet and hilarious.  Joe's mom got all candles for the ceremony the day of the wedding.  Our friend Ushma monogrammed handkerchiefs with our names and wedding date because we were pretty sure there would be a lot of tears!
food: Mercadito provided amazing tacos, picadas, and guacamole, as well as great servers.  No one should ever think they have to hire a "caterer" for their wedding; we picked a restaurant with food we love, and they were much more affordable and gracious than any caterer we talked to.  We rented all the tables, chairs and dishes from Access Party Rental, and they were also terrific.
drinks: We got a keg from Sixpoint and wine from Trader Joe's, but our friend Rolf was the beverage star–he concocted a killer margarita, a non-alcoholic hibiscus punch, and a prosecco cocktail with Fragoli (strawberry liqueur).  We've got really good friends.
[images from Jenny Ebert Photography]