I always knew Shake Shack had exceptional burgers, but who knew you could fall in love there too?!  It sure made for some great pre-wedding photos for Sharon & Chris, thanks to Maggie Harkov!  Sharon gives all the details below…[make sure to check out the gorgeous lace on her dress!]
US: Chris and I met one fateful summer at LAX airport en route to a cultural exchange program in central China. We bonded over the joy of eating sheep stomach soup, yak yogurt and grilled lamb kabobs. We love to eat! Back in the US, we started five years of long-distance courtship (me in NYC, he in Maryland).  On Valentine's Day 2009, Chris proposed in front of our favorite burger place, Shake Shack, at Madison Square Park.
THE WEDDING: On our wedding day, it only seemed natural for us to have our first embrace in front of Shake Shack. Not even a rainy October day prevented us from getting a burger to eat (and shake to drink!) on the biggest day of our lives. We even had a personalized wedding cake topper of us feeding each other a Shake Shack burger and shake…that's how much we love the place.
We wanted our wedding to be fun, colorful and classy with lots of personal and quirky touches. The colors we used were vibrant hues of purple and magenta. We originally planned an outdoor ceremony in the Brooklyn Botanic Gardens, but had to bring it indoors due to the heavy rains. Our florist, Belle Fleur, did an amazing job creating a beautiful "Plan B" for the ceremony and an elegant, romantic landscape for the reception.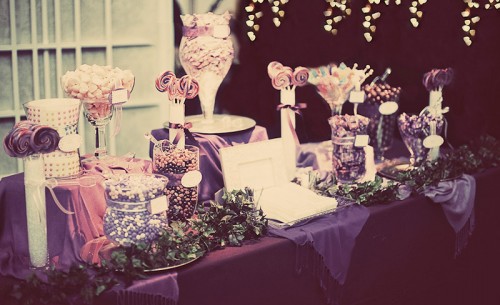 THE SWEETS: I have a big sweet tooth, so we did a nostalgic candy buffet with our favorite sweets and treats. The wedding cake was provided by our venue and was topped with the personalized cake topper, which I got off of Etsy.com. I also surprised Chris, who is obsessed with the Baltimore Orioles, with a cake replica of Camden Yards. A real hit!
THE DETAILS: I love Etsy.com and pretty much ordered all the details here including the cake topper, personalized cootie catchers with fun trivia about me and Chris, table cards of our favorite NYC restaurants, circle-shaped menus, petal cones, fan-shaped programs and flower girl baskets off this website! A little risky since everything was done electronically, but I was really happy with 99% of the results and it was a great budget saver. The DIY favors were personalized fortune cookies + our favorite Maryland staple, Old Bay Seasoning, placed in a Chinese take-out carton… a little "east meets west".  I also went to Chinatown and bargained for dozens of colorful pashminas to keep the guests warm. We also provided slippers, which were purchased by my parents in China. You really can't beat the prices there!
We are now living in Baltimore, but have these beautiful photos taken by Maggie Harkov (and the Shack Cam app on our iPhones) to remind us of our big day in New York!
Venue: The Palm House at the Brooklyn Botanic Gardens
Photography: Maggie Harkov Photography – I found her on Brooklyn Bride!
Videographer: Serendipity Filmworks
Florist: Belle Fleur
Hair: Stacy Pitt (StylesonB)
Makeup: Sissi Chan and Andrew Sotomoyer
Dresses: Vera Wang (bride), J Crew (bridesmaids), a tailor in Shanghai (Chinese qipao)
Music: Anteros Quartet & Hank Lane
Sweets: Groomscake by Silk Cakes by Judy Lai; Candy Buffet by Ricky's of Red Bank
Most details: www.etsy.com
[images from Maggie Harkov]