So you've probably seen some pictures floating around from Urban Wed already, but I just HAD to give you the full story here with lots more!  We had a great 2 nights with tons of brides and industry members!
Urban Wed was the first time I had seen 57Grand bridesmaids dresses in person, and I was not disappointed!  They have so many colors and the fabric is such great quality…your bridesmaids would be happy to don one of these lovely dresses!
Cobblestone Catering took care of all the yummies being passed to our guests…delicious and good looking too!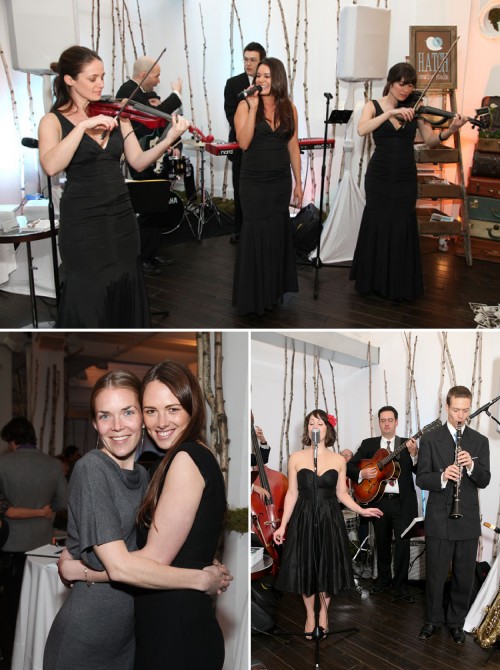 Music was provided by NYC danceband specialist Elan Artists.  Lapis Luna performed Tuesday and The Hudson Project performed Wednesday…at the end of Wednesday we even had a makeshift dancefloor appear out of the blue!  Videography was provided by Open Eye Media and the talented Anna!
Lots of brides ended up sitting in the chair of Brooklyn local Face Time Beauty Concierge for makeup trials…thanks to POP Beauty for providing the makeup!
Click below for more!
Jenny Ebert of 1.artbeautylife had a gorgeous table that really suited her photography style.  If you ever have a chance to check out her albums, you should take it!  Total works of art!
Just About Married is an offshoot of Always a Bridesmaid that offering day of and by the hour wedding consulting…
Betsy from Nine Cakes had some BEAUTIFUL cakes and yummy cupcakes for everyone to try…I love how interesting and different her flavors are…and get a load of her new logo!  Its perfect!
Stay tuned for part 2….
[all images from 1.artbeautylife.com]
1.artbeautylife.com is a member of Brooklyn Bride's preferred vendor listings