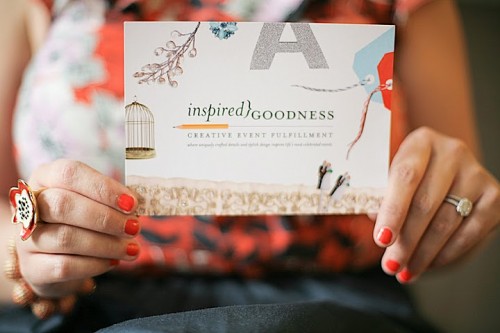 Name: Kimberly Canale
Location: Brooklyn, New York (Park Slope)
Company: Inspired Goodness
I favor mixing vintage elements with modern materials and techniques for a chic and timeless look. Like calligraphy on bright colored envelopes or using a scraps of vintage ribbon to wrap a party favor, it's about taking things that are beautifully made and finding new and interesting ways to use them – a modern interpretation of time-honored materials.
How does your studio style convey your professional aesthetic? Since my studio is located in my home, much of the look of it comes from what I'm personally drawn to. We have vignettes of vintage treasures – industrial influences and family heirlooms are mixed with flea market finds. Inspired Goodness tends to have those same sensibilities but with a feminine twist; think subdued colors and delicate accents like flowers, ephemera and vintage jewelry.
Favorite part of your studio? My favorite area of my studio is the large window to the left of my desk. Seated, I can view the back garden of the apartments below and brick walls covered in decades of ivy. Birds and squirrels are constantly stopping on the fire escape to say hello. It reminds me what I love most – being outdoors in the city.
Where do you go for inspiration? After living in New York for almost 15 years, I've amassed a list of shops that not only inspire me but have become essential resources for fueling my creativity. Anthropologie is my go-to source for cute clothes and home accents. ABC Carpet + Home has amazing gifts and is full of hidden gems around every corner. For materials and supplies, you can usually find me at MJ Trim, Tinsel Trading or Paper Presentation. And Etsy is my weakness for anything vintage.
What tool do you use in your business that you can't live without? My computer is my essential tool – along with my calculator, a sharp xacto knife and self-healing cutting mat, I could pretty much work from anywhere. I could not function without mountains of blank paper and black Pentel EnerGel Pens.
Is there anything you'd upgrade to? I enjoy having clients over to my space – but sometimes I dream about having a small storefront so that I could interact more with the local neighborhood. I'd love the opportunity to create beautiful window displays for the people walking by. On the inside, the focus would be on providing an inviting environment to meet and entertain clients.
Anything else we should know? My first love is graphic design and along with the event design services, we also offer clients a full range of custom paper goods. From save the dates to invitations and day-of details, the stationery gives us a unique outlet to bring the story of each client to life in a more focused and creative medium.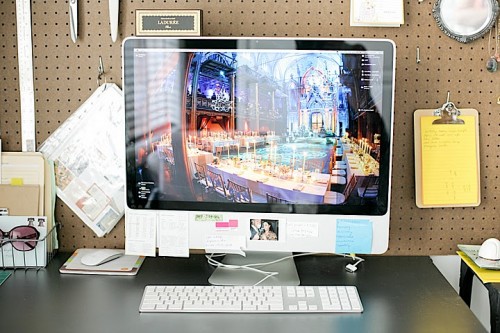 [images from Jen Huang Photography]