Danielle sent me her adorable wedding with tons of charming details and I just had to share with you guys!  Check out her story below…
Stephen and I met, for the first time, when I was 11 and he was 13. After a year or so of friendship, we started dating in the spring of 2001 when I was 14 and he was 16, and we have been together since. He and I were married on September 26th 2009 in the backyard of our mutual childhood friend's home.
I went to school for fine arts for 2 years and then transferred schools to graduate with a bachelor's degree in Interior Design and plan kitchens. Stephen is an Industrial Designer working as a Graphic Designer. He and I knew right away we would be doing most of it ourselves, and in our own unique way.
We started brainstorming about two years before the actual wedding. Deciding to choose the location first was the root of the entire wedding concept. We looked around Philadelphia and the suburbs of Southern New Jersey where we grew up, but couldn't find a place that suited our personalities and our guest's needs. After months of searching, we finally realized the only place we would ever want to be married was exactly where we had first fallen in love.
Location:
Stephen and I had mutual friends growing up and we often spent time in large groups, gathered around a bonfire, camping out under the stars, exploring the woods, and walking through miles of orchards. The center of all this growing and exploration was the backyard of our dear friends, who were brothers. Our group had a sort of headquarters in the shed there, where we had scavenged sofas and tables, and made ourselves a sort of home away from home. This was exactly where we had begun our love, and it felt only right to begin our marriage there as well.
Once we had the location the details started to come into focus. Stephen and I are both passionate about sustainability and supporting local small businesses. We are also blessed with a great family who loves to pitch in and help out where they can.
Favors and color:
The first thing we decided on was our favors, which also allowed us to settle on a color palette. We chose to give apples to our guests. It seems to be appropriate to the location, as we were being married adjacent to apple orchards. The colors of our wedding were gold and red, vibrant and seasonal.
Flags and fabrics:
Stephen and I also loved the charm of bunting flags, and quickly took to hunting for fabrics in the appropriate colors. We used vintage sheets and curtains, as well as store bought quilting fabrics. My oldest sister and I cut out hundreds of triangle flags on my mother's living room floor from a template I created that allowed for a two inch block at the top of each triangle, which was lined with hem-tape, folded over the twine at certain intervals, and ironed down. The whole project probably took 12 hours from start to end, fifty dollars, and turned out to be one of my favorite details of the day.  We also used longer pieces of the same fabrics for table runners which my sister sewed down to size. The table cloths were inexpensive unbleached bedspreads and the napkins were red and white dishtowels from IKEA, where Stephen and I both work.
Plates and cups:
One of the more time consuming projects was the plate hunt. Stephen and I chose to buy mix-matched plates from thrift stores instead of renting or purchasing disposables. The cost was nearly the same as if we had rented and the search was great. My mom and I traveled all around South Jersey to the smallest thrift stores in the most hidden parts and gathered up hundreds of plates and mugs in coordinating browns, yellows, and oranges. In four months time we had more than enough to create beautiful, unique, place setting for every guest. The cutlery was purchased at IKEA for cheap, and was divvied up throughout the family after the wedding was over. Also, at each place setting were two mason jars, one large for dinner drinks and one small for wine. We purchased all of them at a bulk supply store for around seventy-five dollars and resold them afterwards.
Keeping it local- Wine and food:
Down the road from the site of our wedding is Heritage's farm stand and winery and sticking with our hopes to keep the wedding as local as possible we wanted to source what we could from there. I contacted Rich Heritage, who I went through elementary and high-school with and whose family owns the farm, and we worked out a great deal on wine. We had blueberry, peach, and red wine on all the tables. We also purchased all of the apples for our favors from the same place. I enlisted the help of my two nieces, who were also the ring bearers, and on the morning before the wedding we drove to Heritage's and loaded up bags with over 120 fresh picked apples. They were three for a dollar. Steal.
We met with a few caterers in regards to dinner, but no one could satisfy our concern with local food, with controlled ingredients, and a small budget. I asked my Aunt, whose parents own an Italian food company in Southern New Jersey if she would be able to help with the food, and, of course, she was more than willing to help out, and inevitably gave us the food as our wedding gift. I grew up eating this food at family gatherings, and it felt amazing to be able to enjoy the same dishes at my own wedding, and share that part of my life with Stephen's family.
For desert we wanted a big desert table with seasonal pies and doughnuts from a local farm market. Our wedding cake was actually a pumpkin pie. My aunt and cousin made pumpkin bread and I made cupcakes. We also had a big assortment of cheeses, fruits, breads, and vegetables set out all night. The cheese, breads, and fruits came from Whole Foods, while most of the vegetables came from local farms. What we did purchase through the grocery store had local origins.
Rentals and organization:
When it came to rentals, we hoped to keep costs down as much as possible, as they can be incredibly costly. Stephen and I measured out the backyard and I created a plan for tents and ceremony seating that would fit all of our guests and maximize the views around the property. We put the drinks (local beers, water, and soda) under a smaller tent with the DJ, to keep from creating a traffic jam near the food area. My uncle, father, and husband built frames for the rental tables tops to contain the ice and provide as dividers for the different beers.
I placed everyone at three long tables, rather than splitting up the guests and it created a more familial feeling in the tent.
Stephen and I sat in the center of the middle table, and could see everyone from our seats. We lit the tents with Christmas lights and lanterns made from mason jars. Lot's of lanterns. It was a pretty drizzly day, though it held off through the ceremony. The Christmas lights and lanterns gave off just the right type of warm light to keep the mood in the tents cozy and festive.
We also rented a portable bathroom. It was a trailer with a men and womens bathroom, which were pristine, and amazingly looked like real bathrooms. My older sister's friends own the company, and gave us a super good deal on the rental.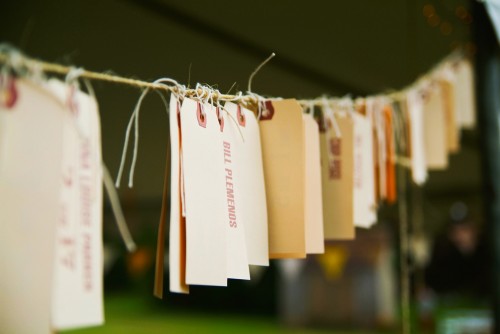 Ceremony details:
When faced with the obstacle of ceremony seating, I remembered seeing an image of hay bales used for a wedding on a blog at some point in our research. My mom sourced some hay bales from a dairy farm close by, we purchased them at half-cost, and the farm removed them from the site a few days after the wedding. So, we rented hay bales for 2.00 each and each bale sat 2 or 3 people. We set them up semi-circular around a big old tree, and were married underneath. On the guest book table we put out a bucket with blankets and fabric in it for people to sit on, or cozy up under, since it did get a little chilly. I also made a smaller version of the bunting flags for the ceremony area with scraps of fabric from the tent buntings. They were cute and useful, helping to create a visual barrier behind the ceremony site.
Ceremony music was performed by two good friends. We let them choose what they wanted to play and were surprised with a beautiful acoustic version of the tradition wedding march. It was perfect. My father, as a gift, hired a bag-piper to play as guests arrived. Both Stephen and I are partly, or mostly, Irish, and it was a great and sentimental way to give a nod to our similar heritages.  Stephen's cousin married us after becoming ordained online. It was a great way to be able to customize our vows, and create a truly sacred trust between us and the officiate.
Graphics:
Stephen created the layout for all of the graphics used at the wedding. Through we used the digital printer for our save the dates and seating cards, we screen-printed our own invites and R.S.V.P cards. This was incredibly stressful and time consuming but totally worth it in the end. We cut down the paper we printed on and I hand wrote on all the envelopes. For the place cards we used price tags, set our printer on the smallest photo setting we could, and manually fed each one through. Stephen is a patient man, and I am very lucky. I couldn't have done that 240 times. But he did. We tied the place cards to twine on the side of the tent opposite the food, and guests cut their names down and found their corresponding seat at one of the three tables. All of the graphic communication was a big part of our preparing for the wedding. It took a lot of time and patience and a pretty talented husband to complete it in time, without an delays, or melt-downs.
Table details:
On the tables we had centerpieces made from flowers that my sisters, cousin, and I gathered the day before from grocery and flower stores all around our town. It made for a fun night of cutting and arranging our own centerpieces. We chose different types of flowers in a similar color range. I also made my bouquet and my sisters bouquets. Another little detail on the tables was my mother's extensive salt and pepper shaker collection. Stephen and I thought about buying salt and pepper shakers, and then remember my mother has dozens of them on a shelf in her kitchen. So we loaded them up and dispersed them around. It was fun to see them at the wedding, having grown up with them in the kitchen at home.
Clothes:
Stephen enjoyed the hunt for his outfit, pants and jacket from H & M. He wanted to wear something fun, and bold, and non-traditional. So, red pants were right on track with that concept. His Best-Man, and step-father, wore a suit he already owned. My sisters, and Maids of Honor, chose their own dresses. They are very different from one another and I knew that the only way to highlight their personalities and allow them to be as comfortable as they could be was so let them do their own shopping. And they did a great job. My nieces' dresses both came from Urban Outfitters, and they loved them very much. They're pretty fun, creative, spunky young ladies, and we agreed on the colored tights instead of flesh colored stockings. My dress and necklace came from J-crew. I loved it online, ordered it, and had a local costume maker do the alterations. It was perfect. My dear friend did my mothers, sisters, and my hair. I did my nieces.
Our photographer was someone we went to high school with who has become an amazing wedding photographer since. He is teamed up with his brilliant wife, and they captured our day perfectly. Stephen and I knew they were they only people we would trust with our day and we were so happy with the results. It was the second most costly part of our wedding, but so worth it.
After the wedding: Two weeks after the wedding Stephen and I relocated to Portland, Oregon where we live now and are expecting our first baby in August.
Some links to our sources.
Photos: http://www.m2-photography.net
Wine: http://www.heritagestationwine.com/
Hay Bales: http://www.creamyacres.com/
Pastries: http://www.duffieldsfarm.com/
[images from M-2 Photography]