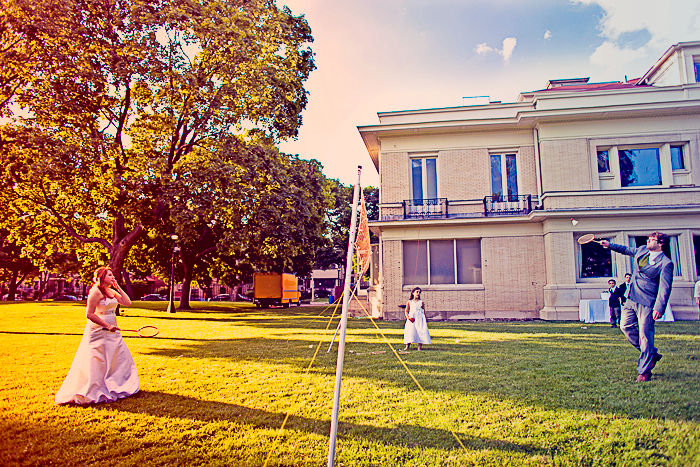 Emily won the Blurb contest a few months ago and sent me her recent wedding, which totally blew me away!
We both knew from the very beginning we wanted our wedding look to be simple and modern but with some vintage touches that would coincide with the venues we had chosen. We decided to go with a color palette of grey, chartreuse and moss green, we felt this would be fun and springy but also clean and modern. Our wedding was no doubt a family affair, the invitations, signs and seating cards were made by the bride's sister (with pouch production help from mom), the wine bottle stopper favors and ring bowl were made by the bride's dad, bridesmaid tote bags and hours of traveling and hand holding by the bride's mom, the guest book was designed by the bride and groom using Blurb. It was very important to us to personalize our day and we were successful! Throughout the night we heard several guests say "this is so you two."
The planning process centered around our ceremony site. Being huge Frank Lloyd Wright fans the we knew Unity Temple would be the perfect place to be married, the architectural details are stunning. Sadly, it has now been placed on the most endangered buildings list, we hope this amazing piece of history can survive. From there we found Pleasant Home just about a mile away which is a historic mansion designed by George Maher, what a great compliment to Unity Temple and also showcased our love of architecture.
It was also important to us to make sure our wedding was loads of fun. Badminton in the lawn, mashed potato martinis, board games for the kid's table, using our iPod as our DJ to play our favorite songs and the Polaroid guest book with props definitely accomplished this. It was clear everyone had a great time.
One of our favorite details were the vintage flower pins we found for all the groomsmen and the custom ties. We searched eBay for various flower pins and sprayed painted them all white, we loved this look and we also loved that they were more eco-friendly and cost effective than traditional bouts since they can be used again. We searched high and low for store bought ties for the groomsmen with no luck. We were thrilled to find Etsy seller Me & Matilda who could create custom ties for us. Fabric was from Premiere Prints.
Non-traditional bridesmaid dresses were found at Ann Taylor Loft for a steal ($75 each) and custom green belts were made in moss green.
AMAZING VENDORS:
Catering – J&L Catering – the food was delicious, we got so many compliments and they accommodated us on all our special needs (vegan, gluten free).
Photography – Chennergy – the groom being a novice photographer himself, www.flickr.com/jpanegasser, felt photography was one of the most important elements to splurge on and we are so glad we did, Dan Chen and David Lai did an amazing job and captured the great moments and emotions of the day.
Flowers – Blumgarten – At first we were hoping to save on flowers  but the bride's mom felt otherwise being an avid gardner most of her life. Mom does know best because the flowers were breathtaking.
Invitations, signage, etc. – The bride's sister, lauramwilliams.com. Her background is in packaging design, web design, corporate identity and logo design but clearly she has the talent for invitation design as well.
Transportation – Windy City Trolley
Hair & Makeup – Morgan Blaul
Rings – Groom,  Yoon Jung Yun inner message ring Bride, Cottage Jewelry
[images by Chennergy]