I'm really pumped to show off this wedding…you probably know Courtney from her lovely blog, head vs heart, and have definitely seen her invitations all over the place. Their wedding was a plethora of colors, graphics, and quirky details, perfect for this modern couple. I loved every piece of it!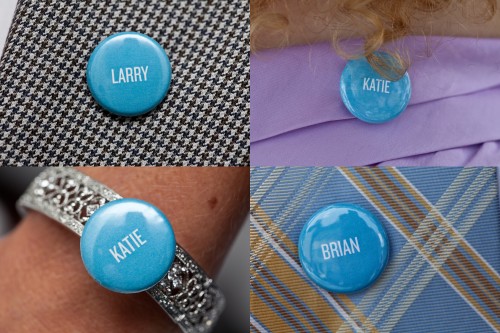 As a pair of graphic designers, Brian and I knew that creating our wedding would be both the most exciting and most challenging project we've worked on yet. From the beginning our goals were to make sure that every detail reflected who we are as a couple, to make our guests feel welcome (many of them were traveling long distances) and, of course, to throw a fun party.

The look and feel evolved throughout the process, starting with our Save the DatesInvitations, but we were always going for a look that was type-driven, colorful and modern. And we carried that throughout the whole event from the groomsmen's socks to the out-of-town gift bags to the cupcake flags. We also added some interactive elements to break the ice—each guest had a personalized button pointing them to their seating assignment, and each table had its own set of buttons as well (Brian painstakingly made 500 of them). This was a huge hit—our friends and family are still talking about it over two months later. and

When all is said and done neither one of us has any idea how much time we spent on all of our wedding projects, but we both agree that it was all absolutely worth it. Though as great as everything turned out, in the end the details aren't what mattered most. And as I said on head vs. heart, the mental snap shots that will really stick with me are every one get ting down on the dance floor, the Red Sox vs. Yankees cheering (Oh yeah, it happened. All in good fun though), the amazing speeches by our favorite people, and the experience of standing up there on that beautiful day making such huge, meaningful promises to each other.
Our amazing vendors: