Handmade Weddings by the ladies of Hello!Lucky and the talented Shana Faust is finally out and its a total winner with its page after page of awesome crafts and beautifully shot layouts…I'm happy to share with you one of my favorite projects from the book below…the pegboard seating chart.  Its so graphic and fun, and can be customized to suit any style.
And hey, since I've got your attention, you probably want to win a copy of the book right?  Well I've got 3 to give away!  Leave a comment below for your chance to win, and 1 lucky winner will also receive a limited edition (only 50 made!) set of letterpress cards made especially for the book!  Since I'm away most of this week, the winners will be announced on Monday.  Good luck! Contest closed

PEG BOARD SEATING CHART
MATERIALS
Makes one 3-×-4-foot seating chart with approximately 50 seating cards
• One 3-×-4-foot sheet Peg-Board (Peg-Board can be purchased in modular and custom sizes from your
local hardware store or at Lowes, www.lowes.com. Adjust the size to fit the number of guests at your wedding. Each seating card requires approximately a 5-×-7-inch area of Peg-Board.)
• 1 pint white paint (optional, if Peg-Board is not prefinished)
• 1 roll kraft paper
• 50 wooden clothespins
• 6 to 10 rolls decorative tape in a variety of colors and patterns
• Ten 8 1/2-×-11-inch sheets white text-weight paper
• 1 roll thin nickel or copper wire
TOOLS
• Peg-Board Seating Card template (available online at www.chroniclebooks.com/handmade-weddings)
• Inkjet printer, with extra cartridges
• Font: Remington Weather
• 6 to 8 sheets newsprint (optional)
• Paint tray (optional)
• Paint roller (optional)
• Scissors
• Glue dots
• Craft knife
• Cutting mat
• Ruler
• Masking tape (optional)
HOW TO
1. Prepare your Peg-Board.
Lay newsprint on the floor of your work area, and lean your Peg-Board against a wall or table on top of it. If using, roll a coat of paint onto the board. Let it dry. Apply another layer if desired. Trim the kraft paper into panels that are sufficient to cover the back of your Peg-Board completely. Affix to the back of your Peg-Board with glue dots.
2. Decorate your clothespins.
Affix a strip of decorative tape along the length of each clothespin. Smooth it flat. Trim off any excess with a craft knife. Repeat on the other side.
3. Print your seating cards.
Using a word-processing program or the Peg-Board Seating Card template, customize your seating cards. Print them using an inkjet printer onto text-weight paper; because they are printed on both sides (guest' s names on the front, table number on the back), print at least one test run to ensure proper alignment. Trim along the crop marks provided using a craft knife, ruler, and cutting mat.
4. Assemble your seating chart.
Decide how you would like to space your rows of seating cards. For each clothespin, thread an 8-inch length of wire through the spring (figure 1). Insert the wire ends into a hole in the Peg-Board, pierce through the kraft paper, twist a few times to secure the clothespin, and flatten the ends against the board, trimming with scissors if necessary (figure 2). If desired, secure the wire ends with masking tape (recommended if you are transporting the assembled board to your venue). Clip your seating cards to your clothes-pins in alphabetical order.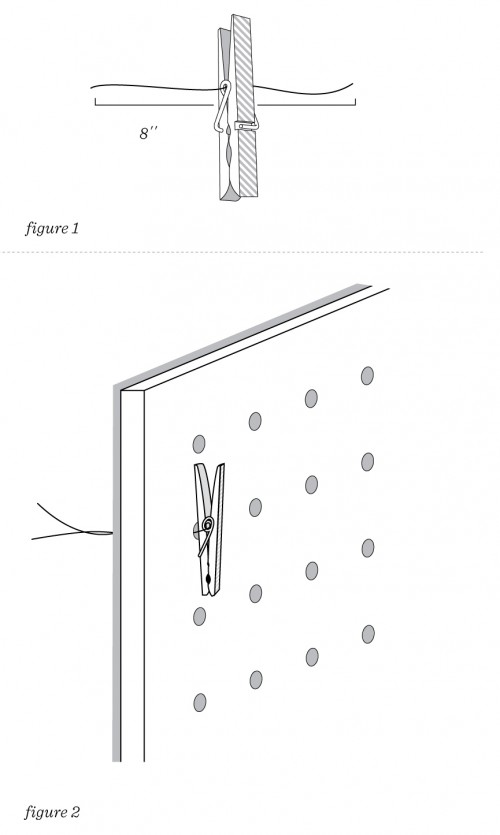 [images from Handmade Weddings and CBroussard]