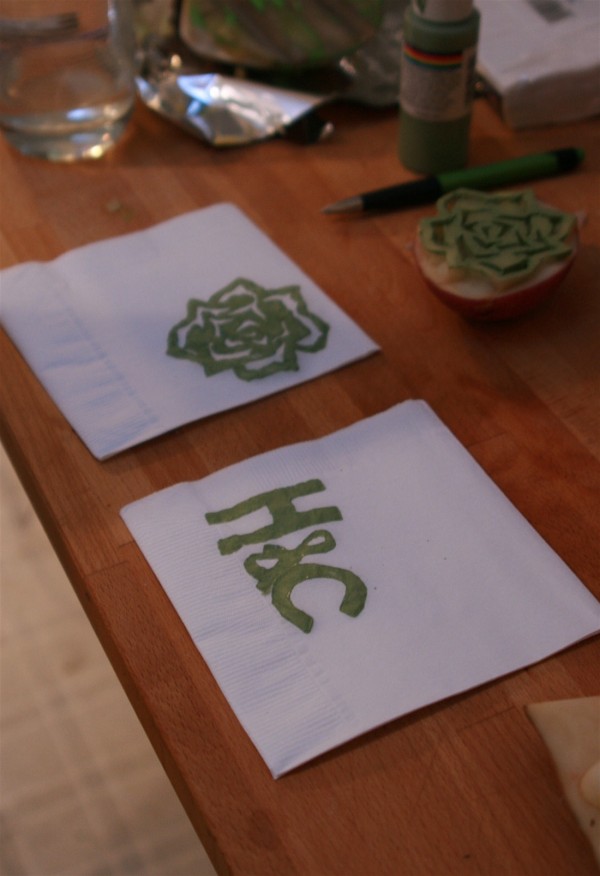 Hi.  We are Hens & Chick Collective.  It's nice to meet you!  We are a group of three artists based out of Seattle, Washington, specializing in styling and creating installations for events and interiors.  Curious?  Check us out at Hens & Chicks Collective or on our Facebook page.   We will be teaming with Brooklyn Bride every month to share DIY wedding tips with readers, showing you how to add a little of your own flare to basic wedding staples without spending a lot of money.
Our first lesson is the start of a three-part series we will be sharing on printing.  Invitations, napkins, envelopes, goodie bags, signs- they can all add so much to your wedding but can also add up!  The easiest way to customize your special day is to add an image or monogram to little bits and pieces of your wedding décor.
For this project you will need:
–       Potatoes (red, yellow, or white all work)
–       Acrylic paint (any craft store will sell paints for about $1.30 per color)
–       Exacto knife (can be found at any craft store)
–       Cookie cutters, if desired (found at any kitchen store or craft store)
–       Anything you'd like to print stamp! (envelopes, cocktail napkins, or even cloth all work well with acrylic paint)
Ok, let's get started.
There are two ways to carve your stamps.  Both work well, but cookie cutters are definitely the easiest.  We'll start there.
–       To carve your stamp from a cookie cutter, you first must determine the shape you would like.  While it is important to find a design that fits well with your wedding décor, be sure you are also choosing a shape that is self-explanatory, as the point of potato stamping is to save you from the tedium of hand-printing detail.  If your are doing letters, keep in mind that the letter must be carved into the stamp backwards in order to stamp forwards (we had a few mishaps learning this lesson), so be sure you are selecting a cutter that can be used from both sides (simple metal ones work best for this).
–       Cut your potato in half, so you have a flat surface to work with.
–       Press your cutter into your potato half about ¼ inch and, using an exacto knife, carve into the side of the potato up to the stamp, carving out all potato around the edge.
The second way to carve your stamp is to cut the potato with an Exacto knife, without any cutter template.  This is trickier but allows for more creative freedom.  It helps to draw your design beforehand, to ensure that you are carving correctly.
[images from Hens & Chicks Collective]