I'm sure you've seen QR codes all over the place especially in advertising, and you probably already know that they generally take you to a website.  What you MAY not know is that you can easily make your own QR code and can translate into up to 250 characters of text, so it makes a perfect little secret code.  Since its all based on pixels, it actually makes a great little Valentine cross stitch project that you'll be able to scan with a QR reader to decipher.  If you know how to count, its super easy.  Here's how to do it.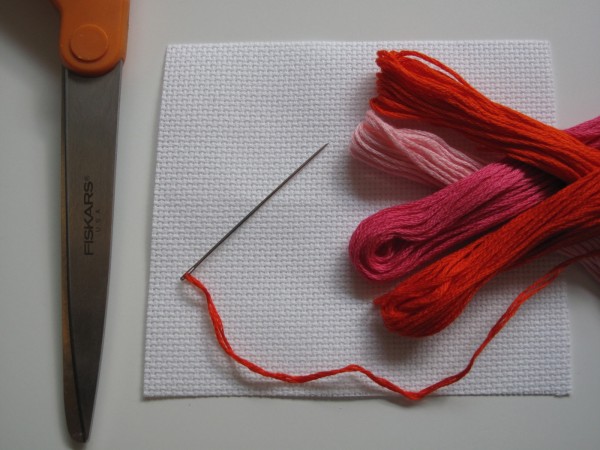 What you'll need:
– Aida cloth (or a fabric with a distinct grid) – lower counts like 4 made bigger stitches, while higher counts make smaller.  I prefer an 18 count myself and find that the reader is able to read it perfectly.
– Embroidery thread – use 1 color because I've discovered mixing multiple colors within a code makes it unreadable. DMC has great colors, including neon!
– Needle
– Scissors
– Embroidery hoop – though its not really necessary
– Generated QR Code
1. Go to a site like this and create your QR code.  Be sure to click that you want it to create text content, NOT a URL, and generate it as XL size so its bigger when printed.  The more text you write, the bigger and therefore more complex code it will be. (see last picture for comparison)
2. Once you've got your code, print it out and draw a light grid and number every 5th row…it will really help when you're starting to cross stitch.
3. Embroidery thread is generally made up of 6 strands….you'll want to split these into 2 groups of 3.  Then thread the needle and start cross stitching.  I like to divide the design into quadrants so I can focus on specific smaller areas, but work however is more comfortable for you.  For tips on cross stitching in general, click here.
4. Finish up the design and decide how you want to present it….you could frame it, pop it in a windowed card, whatever you like!  Make sure your hunny has a QR reader installed on their phone so they'll be able to read the message.  The smaller code says "Happy Valentine's Day" while the larger one is a bit more text.  In general, I would stick with something short and sweet because as the code gets larger, I've found its harder for the QR reader to translate.  Enjoy!
[images by me]