I love how the simplest of materials can make a huge impact. For example, paper rolled into tubes can create a really cool chandelier. Use the colors from your wedding to create a modern decorative piece for your big day. I had seen this metallic version on Martha Stewart but thought it would be fun to mix it up with some colors.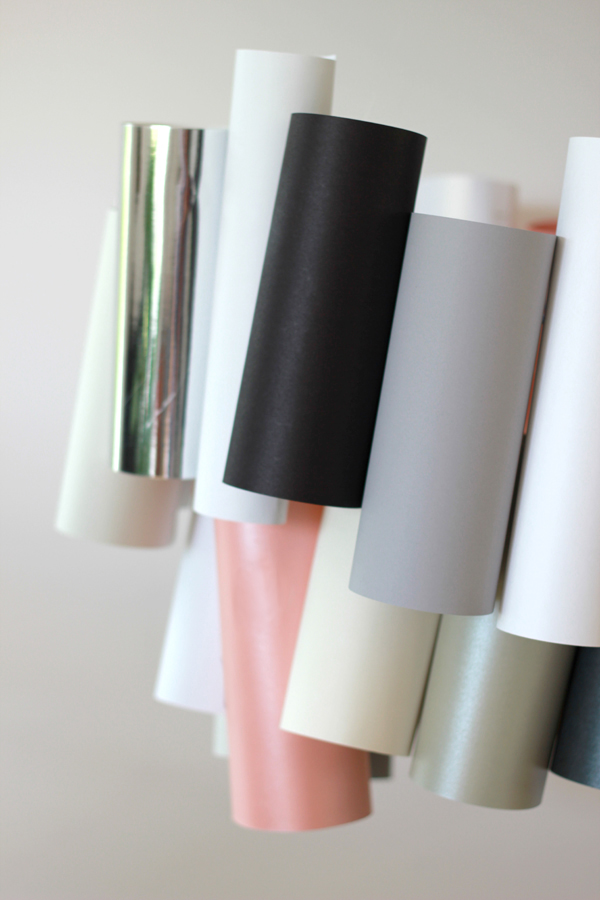 Materials: paper (8 1/2 x 11″), stapler, two wreath forms in two different sizes, glue gun, fishing line, paint
Step 1: Paint the wreath forms white
Step 2: Roll the paper into tubes and staple at each end. You might need to reinforce it with two staples at each end.
Step 3: You'll need about 40 tubes for both wreath forms.
Step 4: Add glue to the edge of the wreath and hold the paper tube onto it.
Step 5: Repeat the process affixing the tubes at different heights.
Step 6: Double strand the fishing line through each hole of the base wreath.
Step 7: String them through the next wreath. Tape each string at 7″.
Step 8: Add the second row of paper tubes onto the wreath.
Step 9: Tie all the strings together at the top.
You're ready to go!
project and photography by Brittany Jepsen of The House That Lars Built