Its always nice to get away for a night of pampering, even if it is just a couple of blocks from my office!  Last week I got to stay over at the Trump Soho hotel with a group of bridal bloggers to experience what its like to plan a wedding there.  As the only 5 Diamond hotel in the area, there are plenty of reasons its a great spot for a wedding (or wedding block).  If its location of nearby Soho isn't enough of a draw, then the views from the top of SoHi definitely would be.  All of downtown Manhattan is laid out in front of you with floor to ceiling windows.
A good thing to know is that only one wedding is booked for the day, so you won't have to compete for spaces, staff or amenities, and you'll have your option of many, from the ballroom downstairs to the restaurant, library, or SoHi up top.  There's also the outdoor space with a pool, bocce court, and New York's only luxury hammam for pampering.  Also, I have to say the staff is really stellar…right from when you enter at reception to room service…they really know how to treat guests, and aim to make your stay and wedding truly special.
Check out the view from my tub!  Not too shabby.
The outdoor space just outside the spa with a bocce court, pool and bar.
Up in SoHi, they can change the ceiling color to match anything!  Its quite impressive for an evening event.
With me being preggo, I couldn't take advantage of all the yummy drinks, but I definitely had some People's Pops slushies!
Flowers of the World decked out this custom display…it was built especially to fit between these columns!
A custom flower cake surprised me in my room…don't mind if I do!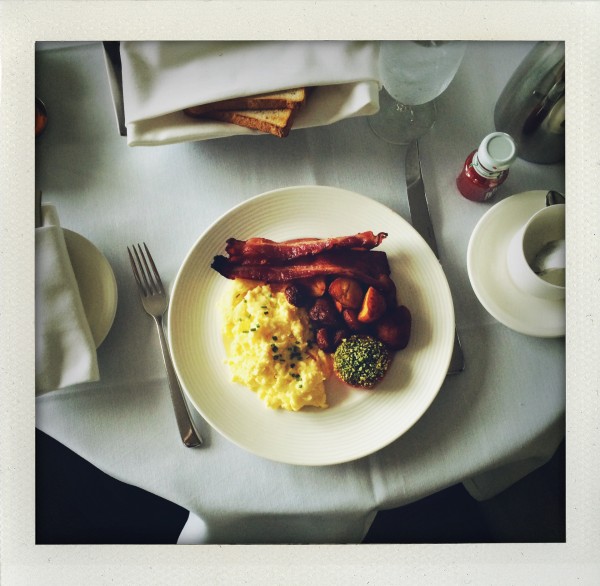 Breakfast in my room the next morning was pretty damn tasty…I could do this all the time!
[images by Vané Broussard for Brooklyn Bride]
I was invited to experience the Trump Soho hotel for my review….all opinions are my own.