Last week Chad and I jetted off to sunny Ocho Rios, Jamaica to spend our babymoon at Sandals Royal Plantation.  Normally I would save the baby stuff for Brooklyn Living, but since there were SOOO many honeymooners there while we were, I figured the info would still be pertinent for those of you planning honeymoons.  We managed to get a great deal because it was their off season (most people apparently go in the winter), but it was actually great because the rates were super cheap and the resort wasn't crowded at all.  The Royal Plantation is Sandals only all-butler resort, with 74 ocean-front rooms…compare that to the Sandals Ochi next door with over 500 rooms!  Oh, and no kids allowed!
But lets get back to those butlers, shall we?  Every room is assigned 2 who will be with you for your entire stay.  You'll be given a cell phone with a direct line to them for dinner reservations, spa appointments, tours, or anything you can really think of.  Beyond that, they really get to know you and make your stay special with the little details…every afternoon when we returned from the beach we'd have a special treat in our room.  It could have been a drawn bath with tropical flowers, or something as simple as a towel puppy, but its these little things that really make you smile.  Chad even had a rose delivered to me on the beach while he was playing golf!
While it took me a while to get used to the idea of "relaxing" (its been so long since I've done a beachy vacation), once I was in the zone, I didn't want to leave.  Everything is included from transportation from the airport, to alcohol, food and golf, and you're able to head over to the Ochi resort next door for even more options, so its like staying at 2 resorts for the price of one.  It was so nice to not have to think about anything once we got there.  Hopefully we'll be back soon!
Some recommendations for you if you're thinking about staying at Sandals Royal Plantation:
Be aware that the resort is actually one and half hours from the Montego Bay airport.
Don't bother with the Club Mobay when you arrive at the airport because you'll be able to access the Sandals arrivals lounge anyway.  Upon departure, if its off season, I wouldn't bother with it either.  The airport was pretty dead when we were leaving so being able to bypass some non-existent security lines didn't warrant the additional $30 a person.
If you want to take advantage of scuba diving but have never done it before, you'll be required to take a class onsite.
Take advantage of the opportunity to have a private candlelit dinner on the property….it really is lovely to be out on the water just the 2 of you!
Check out the Red Lane Spa!  I had the Mother 2 Be massage and an exfoliating treatment and it was heavenly!  You can also do the massages out on the piers.  All spa treatments are an additional cost but because it was off season, we had a spa credit I was able to take advantage of.
Do their tea service at least once…it'll make you feel so hoity toity.  Just watch out for the peacocks…they like the cucumber sandwiches!
Eat at Le Papillon as often as possible!  It was our favorite restaurant on the property, only open for dinner and with a reservation.
If you get Keone and Marvin as your butlers, tell them I said hi!  You're in good hands with them.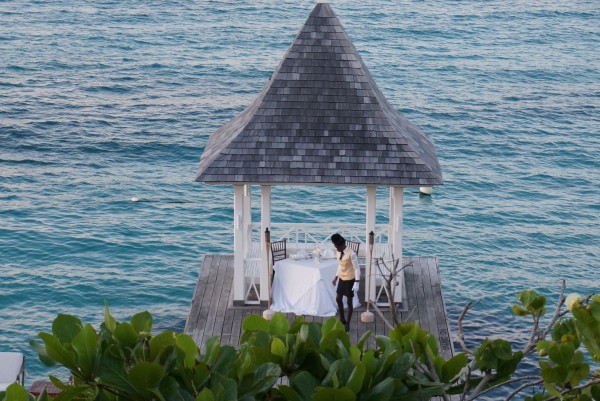 This shot was our private dinner getting set up on the East beach pier!
[images by Vané & Chad Broussard for Brooklyn Bride]
While we had a great time at Sandals, this is NOT a sponsored post.  Just figured you'd like to hear about a great spot to vacation!